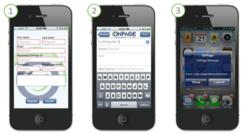 "During superstorm Sandy… the OnPage system played a vital role in allowing Agility's members to be able to reach out and get hold of Agility in their time of need."

Pieter Vos | Director of Operations- Agility Recovery
Waltham, MA (PRWEB) November 14, 2012
Onset Technology, the creator of OnPage Pager replacement for Secured Priority Messaging, announced today that amidst the wrath and fury of Hurricane Sandy this past week, OnPage's services remained fully operational.
Hitting the east coast with flooding, high winds and millions without power, Sandy left many businesses without power. The OnPage facilities, located in Pennsylvania and New York City were hit hard by Sandy, but remained operational amid the power outages that pursued.
OnPage's hosted cloud infrastructure is always prepared in case a natural disaster strikes. OnPage's power supplies comprise redundant systems as well as battery and multiple generators backup, providing uninterrupted power at all times. The OnPage facilities are also equipped with fiber optic SONET Ring (Synchronous Optical Network), a "self-healing" cabling system that is known for its 99.999% uptime.
"During superstorm Sandy, that recently devastated the north eastern United States, Agility was there to meet the needs of our members as the OnPage system played a vital role in allowing Agility's members to be able to reach out and get hold of Agility in their time of need" says Pieter Vos, Director of Operations at Agility Recovery. "Agility stands by the OnPage solution to ensure vital communications is achieved in time of need and would recommend this customer centric solution for organizations that need a solution for ensure you are able to get the people you need in any event."
"No interruption of the OnPage service meant that our customers were able to use OnPage's communication services during the hurricane, including coordinating disaster relief where it was most needed "says Judit Sharon, CEO and President of Onset Technology. "Where SMS got clogged and communications stopped, organizations such as Agility Recovery and other IT support, healthcare providers, and first responders using Onpage were able to fully function"
OnPage currently supports Apple iOS, BlackBerry OS, and Android. For more information about OnPage, visit the OnPage website at http://www.OnPage.com;
ABOUT ONSET TECHNOLOGY
Onset Technology is a leading vendor of mobile messaging solutions to organizations with emergency communications requirements. The company's OnPage mobile app turns iOS, BlackBerry, and Android smartphones into secure digital pagers, supported by an enterprise-grade messaging platform. Onset Technology's OnPage is now used by over 1,000 organizations, including those in healthcare, emergency services, information technology, financial institutions, the legal profession, and government agencies. For more information about OnPage, visit http://onpage.com/. For other products by Onset Technology visit http://onsettechnology.com/