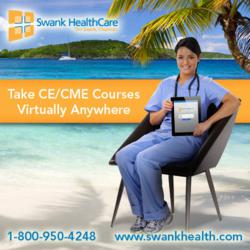 Our hope is that the new Swank HealthCare app will enable our customers to acquire CE/CME credits in an easy and convenient way
(PRWEB) November 14, 2012
Swank HealthCare mobile app users can choose from over 400 courses in 18 disciplines, including nursing, physician and regulatory courses. The courses are available in both video and audio formats and course progress is automatically tracked with full access to previously completed courses.
"Our hope is that the new Swank HealthCare app will enable our customers to acquire CE/CME credits in an easy and convenient way," stated Tim Swank, Chairman of Swank Healthcare. "We are dedicated to staying up-to-date with technological advances and supporting our customers in any way that we can. We are excited to see Swank HealthCare available in such an easy-to-use format."
The modules are distributed online through Swank HealthCare's Learning Management System (LMS), offering clients quick and easy access to course information through a convenient learning format.
For more information on courses and products offered through Swank HealthCare, call 1-877-227-0325 or visit http://www.swankhealth.com.
###
About Swank HealthCare
Swank HealthCare is a leading distributor of online healthcare education for civilian and military hospitals, clinics and medical treatment facilities worldwide. Swank HealthCare is a division of Swank Motion Pictures, Inc.®, headquartered in St. Louis, MO and founded in 1937. Swank has developed into a reputable online CE/CME education distributor after establishing market dominance as a major non-theatrical movie distributor.