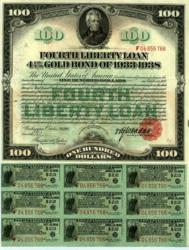 Liberty Bonds were issued by the U.S. Government to help finance the debt of WWI.
Fairfax, Virginia (PRWEB) November 13, 2012
Scripophily.com ®, the worlds largest buyer and seller of collectible stock and bond certificates, is offering War Bonds from around the world covering the period from 1793 to 1945. These bonds include a United States Loan Office Colonial Bond, WWI and WWII bonds from the United States, Canada, Germany, China, Austria, France, Russia, and other countries. There are also a large selection of Confederate bonds from the United States Civil War.
War Bonds offer a truly unique glimpse of history in some of the world's most dynamic and iconic periods. "These bonds exemplify the need for countries to raise money to start, maintain, and finish wars and to rebuild afterwards" says Bob Kerstein, CEO and Founder of Scripophily.com.
The ability to invest in war bonds allowed for citizens to support the cause and feel involved in their government's military activities. "These costly wars contributed so greatly to the history and character of the world", Kerstein added. Moreover the financial support by private citizens often coincided with the expression of pride and a sense of patriotism in supporting their initiative. The importance of war financing over the years has been a major factor in the ultimate outcome of the war.
Bonds on our website include selections from the Dominion of Canada Victory Loan War Bonds, US Defense Bonds, United States Savings Bonds, United States War Savings Bonds, American Defense Society Certificates, German Nazi War Bonds, Austria World War I Bonds, Chinese Army Supply Bonds, United States Civil War and Confederate Bonds, Disney United States Treasury War Finance Committee Certificates, Government of the Philippine Islands Bonds, Imperial Russian Government Dollar Denominated Gold Bonds, Japanese WWII War Bonds, Kingdom of Hungary Bond WWI Bonds, National Government of the Republic of China Liberty Bonds, French Reconstruction De Reims WWI Reconstruction Bonds, Republic of China 1927 - Dr. Sun Yat- Early Taiwan Bonds, Romanian Government WWII Loan Bond, State of New York - War Bonus Bond, United States Adjusted Service Bonds, United States Liberty Loan Bonds, WWI Red Cross Debt Certificate from Austria Art Deco / Art Nouveau, WWI Veteran's Welfare Bond of the State of California, and many others.
Scripophily (scrip-ah-fil-ly) is the name of the hobby of collecting old stock and bond certificates. Values range from a few dollars to more than $500,000 for the most unique and rare. Tens of thousands of Scripophily buyers worldwide include casual collectors, corporate archives, museums and serious collectors.
Scripophily.com - The Gift of History is the internet's leading buyer and seller of collectible stock and bond certificates with over 18,000 items for sale. Scripophily.com also has items on loan for display in the Smithsonian's Museum of Financial History in New York. The company has been featured on CNBC, USA Today, Associated Press, Reuters, Bloomberg, Nightline, Today Show, Baltimore Sun, and the Washington Post and in many other media publications. The company also offers an old stock research service at OldCompany.com and offers high resolution scans for publications.
Scripophily.com / Old Company Research Service is the successor company to all material published by the Marvyn Scudders Manuals, the Robert D. Fisher Manuals, and the Herzog & Co., Inc. obsolete research services, which have been performed continuously since 1880.
Scripophily.com was founded by Internet Pioneer, Bob Kerstein (Bob.com). Bob is a CPA and CGMA, and has more than 36 years of senior management experience in the Cellular, Cable TV, Satellite, Internet, Professional Sports and Entertainment Industries. Bob is also the President of the Professional Scripophily Traders Association (PSTA).
For more information on Scripophily.com®, visit http://www.scripophily.com, http://www.scripophily.net, http://www.bob.com or call 1-703-787-3552.