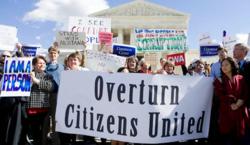 These SuperPACs have hijacked the electoral process, says Coffee Party USA President Eric Byler
Denver, CO (PRWEB) November 14, 2012
Political grassroots organization Coffee Party USA announced the start of a new campaign today, aimed at raising awareness of the ways that SuperPACs have disenfranchised the American voter. Called "Invoice the SuperPAC," the campaign plans to generate upwards of 50,000 "invoices" to Crossroads GPS, a SuperPAC associated with conservative political operative Karl Rove.
"Ever since the Citizens United decision, my vote and your vote are worth much less," said Coffee Party president and co-founder, Eric Byler. Citizens United v. Federal Election Commission — the 2010 Supreme Court case which controversially ruled that corporations have the same rights as people to spend as much money as they want on political campaigns — opened the door to so-called SuperPACs, organizations that use untold millions in "dark money" to influence voters, often through half-truths and misinformation.
"These SuperPACs have hijacked the electoral process," said Byler. "They've conducted surveys and badgered us with phone calls, all in an attempt to tell us what we should think. The Coffee Party thinks they should pay us for all of the time they've wasted."
The organization is providing a form letter which anyone can download. It includes an explanation of the campaign, along with an "invoice" in the amount of $538.00. Jessica English, volunteer and membership coordinator for the Coffee Party, explains: "We've decided to charge them one dollar for each of the 538 Electoral College votes that they tried to buy," she says. "That seems fair to us."
English adds that she doesn't expect Crossroads GPS to actually pay. "It's a political statement, obviously," she says. "But people have to start standing up against all the special interest money that's being used to buy the elections."
Spending for the 2012 election season is expected to have topped $6 billion, English says, and expenditures for each of the presidential candidates likely surpassed $1 billion. According to website OpenSecrets.org, which tracks such expenditures, SuperPACs alone will have spent nearly $650 million, much of it donated, yet unreported.
"Anything we can do to cast more light on dark money is a positive," Byler said. "The Coffee Party will continue to work in any way we can to overturn the Citizens United decision. Only by doing so can we return to the days when each person's vote really meant something."
The "invoice" is available for download from the Coffee Party USA website.
Coffee Party USA is a grassroots, non-partisan movement that aims to restore the principles and spirit of democracy in America. It started on Facebook as a popular fan page in January 2010 and has since blossomed into a national non-profit organization with a network of over half a million people and dozens of local chapters.
Its plan for restoring democracy in America includes:

Identifying and advocating for legislative fixes to reform campaign finance laws, Wall Street regulations, and the tax code
Promoting cultural changes to address political disengagement, polarization and widespread misinformation
Its activities center around encouraging inclusive, civil, fact-based, solution-oriented dialogue — online and in public places such as coffee houses — in which they meet, talk, and become informed and engaged as fellow Americans, rather than as members of political parties.