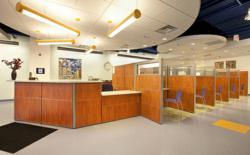 This particular pairing provides an opportunity for Health Information Technology to bridge the gap between social and economic policy in a way which has far reaching implications of which the medical community has just scratched the surface.
Seattle, WA (PRWEB) November 13, 2012
According to experts at the Urban Institute, despite implications that the new Healthcare bill may impede efforts for the nation's financial recovery, the data suggests otherwise. The Urban Institute conducts independent, evidence-based, economic and social policy research, collects data, evaluates social programs, and educates the public on key domestic issues. Researchers there have been studying various business and insurance models to examine the effects of the Affordable Care Act's (ACA) impact on coverage and costs per person on businesses of varying sizes.
Their model demonstrated that the ACA's regulations have only a minor impact on overall employer-sponsored coverage, including total costs. According to the study, "The law leaves large businesses' costs per person insured largely untouched and reduces them for small businesses. Only among mid-size businesses (with 101-1000 employees) would costs per person be noticeably higher, largely attributable to those employers not offering coverage today." (urban.org, 10/5/12) This seems to confirm other insurance models that large businesses have adopted for their employees for many years which utilize the unique coupling of a large insurance pool and the implementation of Electronic Health Record (EHR) systems such as Kaiser Permanente or Group Health Cooperative.
"This particular pairing provides an opportunity for Health Information Technology to bridge the gap between social and economic policy in a way which has far reaching implications of which the medical community has just scratched the surface. In the same way when NASA was able to put a satellite in orbit would have far more uses than merely keeping up with the Russian Space Program, EHR has the potential to revolutionize medical care, research, pharmaceuticals, and much more," says Del Johnston, Manager of Client Relations at MedZilla.com.
In a recent commentary by Eugene Steuerle, former Deputy Assistant Secretary of the Treasury and former advisor to the National Committee for Vital and Health Statistics, EHR technology could eventually be used to anonymously collect health information on a nationwide scale in order to for scientists to have access to data sets massively larger and more accurate than ever before. This kind of information could allow breakthroughs in understanding statistical trends which currently remain correlative anomalies. In the future, these large data sets being put together with computer statistical modeling software would allow doctors, researchers, pharmacists and other medical personnel to track an incredible amount of lifesaving information right from their examination rooms that they may otherwise be completely unaware of.
For example, regional outbreaks of specific symptoms could easily be attributed to their cause if the data is also available to match patients with a specific pharmaceutical that may need to be recalled, or a new strain of virus and be able to match the vital statistics of the carriers involved to identify the effected and potentially at risk populations within hours instead of weeks. Data can be assessed to find out why certain populations live longer, or do not seem affected by certain diseases such as Alzheimer's, Autism, or Parkinson's. Analysis such as these can take decades and come up with weak correlations because of limited data sets. (urban.org, 9/20/12)
John Burkhardt Managing Director of Medzilla.com cautions, "Right now the EHR technology just isn't standardized at all. So, while the possibilities are pretty exciting, it could be a long wait before this kind of thing could be implemented. Also, obviously, keeping in line with HIPAA, making sure everyone's health information is kept private and secure is always the biggest priority when implementing any new technology. That's also why we need good people in the business, though. There are a lot of exciting job possibilities on the horizon."
Medzilla.com is one of the most notable and essential resources for accessing and finding healthcare, pharmaceutical, and biotechnology employment information on the internet. Their employment experts connect skilled and experienced workers with top industry employers.
**********************************************************************************************************
About MedZilla.com:
Established in mid-1994, MedZilla is the original and leading web site to serve career and hiring needs for professionals and employers in biotechnology, pharmaceuticals, medicine, science and healthcare. The MedZilla jobs database contains about 7,500 open positions. The resume database currently contains over 295,000 resumes with 26,500 less than three months old. These resources have been characterized as the largest, most comprehensive databases of their kind on the web in the industries served.
MedZilla(R) is a Registered Trademark owned by MedZilla Inc. Copyright (C)MedZilla, Inc. Permission is granted to reproduce and distribute this text in its entirety, and if electronically, with a link to the URL http://www.medzilla.com. For permission to quote from or reproduce any portion of this message, please contact MedZilla, Inc. at press(at)medzilla(dot)com
Press Inquiries
Contact: MedZilla, Inc.
Phone: (360) 657-5681
press(at)medzilla(dot)com
###