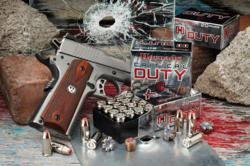 2013 New Hornady Ammo Products
(PRWEB) November 14, 2012
Grand Island, NE: Hornady Manufacturing, an industry leader in bullet and ammunition technology, is proud to announce a comprehensive lineup of new and technologically advanced products for 2013.
New ammunition from Hornady includes:
American Whitetail
Combines generations of ballistics know-how with modern components and technology.
45 Auto +P Critical Duty
Meets the FBI protocol handgun ammunition terminal performance test requirements.
New Critical Defense Loads
30 Carbine, 32 H&R Magnum and 32 NAA have been added to the Critical Defense lineup.
410 Critical Defense
Features a unique Triple Defense projectile stack.
Superformance Shotgun Slugs
Features the MonoFlex projectile of either 12 or 20 gauge loads.
MonoFlex ML
Features the .452 diameter MonoFlex bullet.
SST Lite Shotgun Slug
Reduced recoil for youngsters, women or anyone looking for less recoil of their gun.
Heavy Magnum Coyote
Delivers lethal results and minimal pelt damage out to 50 yards.
New reloading tools from Hornady includes:
Lock-N-Load Hot Tub Sonic Cleaner
The Hornady Hot Tub is long enough to accommodate and clean a 16 inch AR-15 upper.
Lock-N-Load Light Strip
Works with any press or reloading bench for extra light for ease and safety.
Balance Beam Scale
Traditional analog scale for powder measurement.
One Shot Tumbling Media
The abrasive media removes tarnish and other residue from cartridge cases.
Hornady Handbook 9th Edition
Reloaders will find over 900 pages representing data of all the newest Hornady bullets.
Founded in 1949, Hornady Manufacturing Company is a family owned business headquartered in Grand Island, Nebraska. Proudly manufacturing products that are made in the USA, Hornady Manufacturing is a world leader in bullet, ammunition, reloading tool and accessory design and manufacture.
For further information regarding Hornady products, visit our web site at http://www.hornady.com. Media members interested in Hornady winning products for editorial review, should contact Everett Deger at edeger@hornady.com.