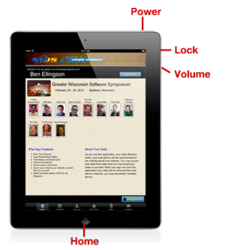 Denver, CO (PRWEB) November 19, 2012
NFJS One, the technical event management company behind the No Fluff Just Stuff Symposium Tour, has introduced the NFJS iPad conference software solution in lieu of the outmoded binder and papers traditionally used at conferences.
The No Fluff Just Stuff Symposium Tour Series is regarded as the number one Java/Agility conference series in the United States, which is due in part to the high caliber speakers, cutting edge 90 minute technically focused sessions, and pioneered the idea of capped attendees, which ensures maximum speaker attendee interaction.
NFJS One traversed over 20 major city locations in the United States last year, and introduced the concept of "bringing the conference to you" idea without the labyrinth of booths and vendors and, since 2001, they have delivered over 300 events with over 50,000 attendees.
Beginning with 2012 Tour season, and going forward, the No Fluff Just Stuff Symposium Tour has gone "green", or paperless, eliminating 1.5 million pieces of paper using their iPad solution. The paperless solution offers improved attendee connectivity and customization, minus unnecessary binders, folders and marketing collateral.
"The No Fluff Just Stuff iPad Conference Software Solution takes the attendee experience to the next level through the ability to view all slide decks, review session overview videos from the speakers, taking notes which annotate directly on the slides, rate the conference experience as a whole and do much more," states Jay Zimmerman, the creator and director of the No Fluff Just Stuff Java Symposium Series.
Matthew McCullough, coauthor of the popular new book, Presentation Patterns, commented, "The iPad solution offered by the No Fluff Just Stuff Tour is a gmae changer both for the attendees and speakers. It offers a high quality digital viewing of slides, on-tablet synchronized note taking, and direct speaker feedback, all via a custom iPad Application."
For additional information regarding tour dates and agendas, please contact Jay Zimmerman, President, President and CEO, at jay(at)nofluffjuststuff(dot)com