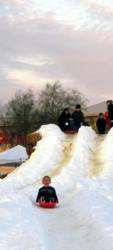 More than 40 tons of snow will be transported to Yuma to create a one-of-a-kind sledding hill.
YUMA, Arizona (PRWEB) November 13, 2012
Santa will arrive in this desert town a week early this year with a rare treat for kids of all ages - enough snow to blanket a sledding hill!
The sledding venue will be part of a magical Christmas Village at the Yuma Quartermaster Depot State Historic Park. The Village will also feature a trip back in time aboard the "Heritage Express" train, which will travel throughout the park and tour the brightly-lit historic buildings to experience Christmas traditions from years past.
Sponsored by Yuma Visitors Bureau, the Village will be open from 5-9 p.m. daily Dec. 15-22.
More than 40 tons of snow will be transported to Yuma to create a one-of-a-kind sledding hill. This year there will also be a pint-sized sledding hill for all the little ones under 4. The entire park - and a special kid-sized village of fanciful walk-in playhouses - will be decorated with thousands of sparkling lights and other holiday decor.
Each playhouse will offer a holiday activity - for example, keepsake holiday ornaments kids of all ages can create at the Hilton Garden Inn house and old-time "bank robber" photos in the Foothills Bank. Guests will be able to decorate and enjoy a Christmas cookie and kids will be able to shop for their families in Santa's workshop where all items are just $1. Of course, Santa will also be on hand for visits and photos.
Entertainment will be offered nightly, along with food and drink vendors. Highlights include local band Aliens vs. Predator on opening night and Christmas Carol Karaoke Sing-A-Long to close things out Dec. 22. Two special evenings will also take place this year: "Storytime and Cookies with Santa" for the little ones on Tuesday, Dec. 18 and "A Taste of Yuma: Holiday Sweets and Treats" reception for adults on Thursday, Dec. 20. Following the "Taste of Yuma" event, which will offer an array of great food from Yuma area restaurants, the first annual Reindeer Games Server Competition will take place.
Individual and group pricing will be available, and kids five and younger are admitted free and sled free with an adult. For more information, to volunteer or to find out how to be a entertainer or vendor, contact Erin at 928-376-0100 or email Erin(at)visityuma(dot)com. A special webpage is under construction at http://www.yumachristmas.com.
Yuma Visitors Bureau markets the Yuma area within the travel and tourism industry and to the general public.
Yuma's population nearly doubles in the winter months, thanks to more than 23,000 spots in RV parks and resorts. The community also offers nearly 4,300 hotel rooms, conference and meeting facilities, and three casinos. For more details about Yuma's year-round attractions, special events - and the rarely "cloudy with a chance of tacos" forecast* - visit http://www.visityuma.com or call 800-293-0071.

Recognized by Guinness World Records as world's sunniest spot, Yuma offered free meals to hotel guests "every day the sun doesn't shine" from Aug. 1, 2011 until July 31, 2012 as part of Arizona's Centennial celebration. Yuma's final score? Sunshine 365, Gloom 0.