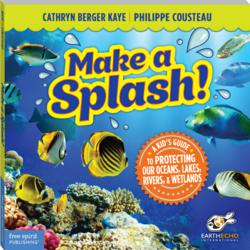 Young people are the only ones who have the power to truly change the world.
--Philippe Cousteau
Minneapolis, MN (PRWEB) November 13, 2012
From service learning expert Cathryn Berger Kaye, M.A., and environmental advocate Philippe Cousteau, with EarthEcho International, comes an opportunity for kids to shape the future of the planet. In their new book, Make a Splash! A Kid's Guide to Protecting Our Oceans, Lakes, Rivers, & Wetlands (Free Spirit Publishing, $13.99), Kaye and Cousteau reveal facts about our waters, their inhabitants, and the threats they face, while presenting inspiring stories of kids in action around the globe and practical tips and ideas for making a difference.
"I believe that young people are the only ones who have the power to truly change the world," says Cousteau. "And not just tomorrow—they have the power today to make a positive difference. Let's prepare our youngest generation to get started right now on protecting our water planet and set them off on an exciting, lifelong adventure."
Make a Splash! offers a global look at the issues our water planet is facing—trash, pollution, climate change, oil spills—as well as what kids can do, and are already doing, to help. "We see kids getting involved and taking action every day, all over the world," says Kaye. "I'm amazed by what they're doing—from helping preserve coral reefs in the Florida Keys to learning about the importance of mangroves in our water systems in Singapore. Their stories give us all inspiration to take action for water and ideas for kids to make a splash of their own."
In Make a Splash!, kids are introduced to service learning ideas. Service learning is a rapidly growing teaching strategy that offers teachers and students opportunities to connect science, math, history, and literature and other curriculum to environmental issues in their school and community. The book's chapters are divided into the five stages of service learning: Investigate, Prepare, Act, Reflect, and Demonstrate, using a motif of scuba gear throughout to represent each stage. The chapters take kids on an exploration of our water planet—find out why water matters, dive in to discover the deeper story of water, get going and take action for water, think back and reflect on your actions, and show it and share your story with others.
Make a Splash! is the elementary-level counterpart to Kaye and Cousteau's award-winning book Going Blue: A Teen Guide to Saving Our Oceans, Lakes, Rivers, & Wetlands. The back matter in Make a Splash! includes a glossary and book and web resources. A free leader's guide is available online.
Review copies of Make a Splash! are available on NetGalley or from Elena Meredith at Free Spirit Publishing (publicity@freespirit.com).
About the authors
Cathryn Berger Kaye (http://www.abcdbooks.org)
Cathryn Berger Kaye, M.A., is an international service learning and education consultant and a former classroom teacher. She presents at conferences around the world and works with state departments of education, universities, school districts, and classroom teachers on a variety of education issues such as service learning, student leadership, and respectful school communities. Cathy's books include Going Blue: A Teen Guide to Saving Our Oceans, Lakes, Rivers, & Wetlands (with Philippe Cousteau), The Complete Guide to Service Learning, and the How to Take Action! series of student workbooks. Cathy lives in Los Angeles.
Philippe Cousteau (http://www.philippecousteau.com)
Explorer, social entrepreneur, and environmental advocate, Philippe Cousteau is the son of Jan and Philippe Cousteau Sr., and the grandson of Captain Jacques Cousteau. Philippe is founder and CEO of EarthEcho International (http://www.earthecho.org), a leading nonprofit environmental education organization. EarthEcho provides science-based service learning resources, programs, and workshops for educators and students. Philippe also created the Global Echo Foundation, which supports social entrepreneurship and provides resources to solve many of the challenges facing the world community—from social issues impacting women and children to environmental conservation. He serves as a special correspondent for CNN International, where he reports on environmental and humanitarian stories and hosts documentaries. Philippe lives in Washington, D.C.
About the publisher
Free Spirit Publishing (http://www.freespirit.com)
Headquartered in Minneapolis, Minnesota, Free Spirit is the leading publisher of learning tools that support young people's social-emotional health and their educational needs. Free Spirit's mission is to help children and teens think for themselves, succeed in life, and make a difference in the world.