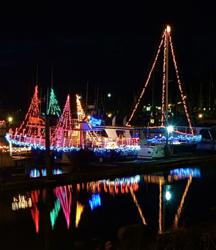 Colorful lights and cheerful events make everything glitter here at the beach during the holiday season.
LONG BEACH PENINSULA, Wash. (PRWEB) November 14, 2012
Warmly decorated with garlands and lights, Victorian villages, fishing ports and beach towns along Southwest Washington's Long Beach Peninsula will host a series of events to build anticipation for the winter holidays.
According to the Long Beach Peninsula Visitors Bureau, highlights include a lighted boat parade, caroling, lighting of the town tree in Long Beach and a crab pot Christmas tree in Ilwaco, craft making with Mrs. Claus, a birthday party for Frosty the Snowman, and fireworks displays over the water. Starting with Holidays at the Beach on Nov. 23, all events are free to the public, with a donation of non-perishable food or warm clothing items for local charities requested at two events.
"Colorful lights and cheerful events make everything glitter here at the beach during the holiday season," shared Andi Day, Executive Director. "They brighten the longer nights, build anticipation for the holidays and bring smiles to the faces of children and adults, alike."
Main events for the 2012 holiday season on the Long Beach Peninsula are as follows:
Holidays at the Beach (Nov. 23-25), Long Beach, includes a pajama party screening of THE POLAR EXPRESS hosted by Mrs. Claus and the Railroad Conductor at the Neptune Theater on Friday at 1PM; a magic show by Mrs. Claus at 11AM and 1PM on Saturday at the Elks Lodge with craft making before and after the shows and free pictures with Santa starting at 3PM; caroling at the gazebo and tree lighting with the Mayor, from 5 to 8PM, on Saturday; and, on Sunday, from 11AM to 1PM, a celebration of Frosty the Snowman's birthday with an encore magic show, more crafts and a slice of birthday cake with Frosty, who welcomes donations of hats, mittens and winter clothing.
Peninsula Arts Association Studio Tour (Nov. 23-24) provides an opportunity to meet artists in their studios from 10AM to 4PM along the Long Beach Peninsula. One of a kind mementos, home décor items, handcrafted jewelry and unique creations will be on display and available for purchase.
Community Tree Lighting (Nov. 30) at the Ocean Park Eagles on Bay Ave. at 6PM including Santa's workshop, refreshments and pictures with Santa at the Ocean Park Fire Station.
Lighted Boat Parade and Crab Pot Christmas Tree (Dec. 1), at the Port of Ilwaco, celebrates the lighting of a huge "Christmas Tree" made for stacked and tied crab pots at 5PM. The lighting will be followed by a parade of decorated, lighted fishing, charter and pleasure boats from the Port of llwaco to Cape Disappointment at 6PM, weather permitting.
Bed and Breakfast Holiday Open House (Dec. 8-9) is an annual open house with tours from 1 to 4PM of the inns and bed and breakfast establishments, decked out in holiday finery. Charitable donations of non-perishable food will be accepted and distributed to local food banks.
Tuba Christmas (Dec. 9) brings the Astoria Tuba Quartet to Ilwaco's Columbia Pacific Heritage Museum to perform sounds of the holiday season in an afternoon concert from 2 to 4PM.
Fireworks at Midnight over the Ocean (Dec. 31) rings in the New Year with five minutes of fireworks over the Pacific Ocean in front of the boardwalk in Long Beach.
For visitors, the string of coastal communities along the Long Beach Peninsula offer exceptional restaurants, ultra-fresh seafood, welcoming lodging, and unique holiday shopping options. One of a kind museums and attractions, lighthouses, fine art galleries, meandering trails, and, above all, its long, wide, windswept beach make the Long Beach Peninsula one of the Northwest's most enjoyable and refreshing getaway destinations.
For event and visitor information, please call the Long Beach Peninsula Visitors Bureau toll free at 1-800-451-2542 or access http://www.funbeach.com.