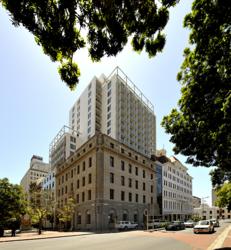 "Cape Town is one of South Africa's most vibrant and beautiful cities, and there's no better vintage point from which to experience all it has to offer than Taj Cape Town," says Willie Williams, director of sales and marketing at Taj Cape Town.
Cape Town, South Africa (PRWEB) November 13, 2012
Travelers on South Africa's renowned 5 star passenger rail carrier, The Blue Train, are set to enjoy a double dose of luxury, with two of the country's premier luxury hotels,Taj Cape Town and 131 on Herbert Baker in Pretoria, offering those traveling between December 2012 and December 2013 a complimentary night's accommodation – pre or post their Blue Train experience.
The luxury rail service, which runs between Pretoria and Cape Town, and boasts features such as a private butler service, marble-clad bathrooms and gourmet cuisine, now offers discerning travelers the option to extend their travel experience, affording them a chance to enjoy the country's top tourist destinations in high style.
"Cape Town is one of South Africa's most vibrant and beautiful cities, and there's no better vintage point from which to experience all it has to offer than Taj Cape Town," says Willie Williams, director of sales and marketing at Taj Cape Town. "A stone's throw from the majority of the city's top tourist attractions, the hotel offers guests a chance to experience the Mother City in style, with most of our rooms and suites offering sweeping views of Table Mountain, recently named one of the New 7 Wonders of Nature."
The Blue Train's 27-hour journey between Pretoria and Cape Town covers 1,600 kilometers (994 miles) of diverse and spectacular scenery, showing off the very best of South Africa's dramatic landscapes. Stopping in historic towns like Kimberley and Maatjiesfontein, the trip offers travelers a breathtaking snapshot of the sub-continent in an opulent setting.
The train, which has become synonymous with elegance and luxury, has carried kings and presidents over the course of its 66-year history, delivering unparalleled levels of quality and service to a discerning clientele. Their chosen hospitality partners reflect this ethos, and have been chosen so as to aid in making the transition from train to terra firma a seamless one.
"The idea behind this is for guests, who travel in a world of grace, elegance and romance, to extend their journey once on solid ground, and prolong the luxury of The Blue Train experience," explains Williams. "Taj Cape Town offers guests the very finest in South African hospitality, with a wide variety of award-winning restaurants sure to please all palates, as well as a luxury on-site spa."
The Taj Cape Town is situated in the historic city centre of Cape Town and offers a combination of rich history and elegant contemporary architecture. Originally home to the South African Reserve Bank and Temple Chambers, and later the Board of Executors (BOE), it successfully combines the heritage of the old world with the luxury of the new. Ideally located, this five star hotel has the very best of the city at its doorstep, offering guests easy access to fascinating history, exotic culture, soulful art, lively entertainment and delectable cuisine.
Guests looking to learn more about Cape Town's fascinating history also have access to the hotel's unique 'Footsteps to Freedom' service, which comprises a leisurely and informative walking tour of sites including St. George's Cathedral, the Slave Precinct, the Grand Parade, St. George's Mall, Company Gardens and Parliament.
131 Herbert Baker is an exquisite boutique hotel, conveniently located in Pretoria's historic Herbert Baker Street. With breathtaking views of South Africa's capital city, as well as five-star accommodation and eating facilities, this intimate hotel offers guests a perfect spot to unwind pre their journey.
The Blue Train's new accommodation special applies to all new bookings, subject to availability. Overnight accommodation includes breakfast, as well as transfers from the train station. Passengers can choose to extend their journey in either Pretoria or Cape Town, depending on the nature of their travels.
For more information on The Blue Train, visit http://www.bluetrain.co.za or call +27 12 334-8459 (Pretoria) / + 27 21 449-2672 (Cape Town), http://www.tajcapetown.co.za or call +27 21 819 2000 for the Taj Cape Town and, visit http://131herbertbaker.boutique-hotel.co.za/ or call +27 12 751 2070 for 131 Herbert Baker.
About Taj Hotels Resorts and Palaces
Established in 1903, Taj Hotels Resorts and Palaces is one of Asia's largest and finest group of hotels, comprising 95 hotels in 54 locations across India with an additional 16 international hotels in the Maldives, Malaysia, Australia, UK, USA, Bhutan, Sri Lanka, Africa and the Middle East. From world-renowned landmarks to modern business hotels, idyllic beach resorts to authentic Grand Palaces, each Taj hotel offers an unrivalled fusion of warm Indian hospitality, world-class service and modern luxury. For over a century, The Taj Mahal Palace, Mumbai, the iconic flagship has set a benchmark for fine living with exquisite refinement, inventiveness and warmth. Taj Hotels Resorts and Palaces is part of the Tata Group, India's premier business house.
About The Blue Train
The Blue Train, one of South Africa's most iconic brands, has been synonymous with luxury hospitality, tourism and leisure since 1946. The all-inclusive experience offers passengers a unique way of experiencing some of Southern Africa's magnificent landscapes and landmarks. On board the train, guests can indulge in the finest cuisine accompanied by some of the best wines South Africa has to offer. Around-the-clock personal butlers see to guests' every need for the duration of their experience; be it in the comfort of their private suites or at any one of the train's exquisite lounges.
For over half a century South Africa's Blue Train has enjoyed an international reputation as one of the world's pre-eminent travelling experiences. It has also been voted Condé Nast Traveller Readers' FAVORITE SPECIALIST TRAIN at the 12th Annual Readers' Travel Awards, held at The Royal Institution of Great Britain in London lately. The Blue Train was also voted the 2011 World's Leading Luxury Train at the 18th Annual World Travel Awards, the third consecutive year it has enjoyed this honor.
# # #