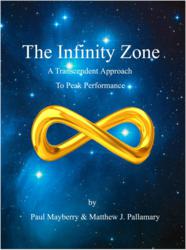 "A nifty tour of gorgeous patterns, fun coincidences and inspiring rhythms in nature, body and mind."
- David Brin, author of EARTH and of EXISTENCE
San Diego, CA (PRWEB) November 13, 2012
In this groundbreaking new book, "The Infinity Zone: A Transcendent Approach to Peak Performance" award-winning author and shamanic explorer, Matthew J. Pallamary with professional tennis coach Paul Mayberry, offer a fascinating exploration of the phenomenon that occurs at the nexus of perfect form and motion, bringing balance, power, and coordination to physical and mental activities.
"The Infinity Zone" book launch coincides with United Nations Educational, Scientific and Cultural Organization's (UNESCO) World Philosophy Day, Thursday, November 15, 2012, and serves as an educational, scientific and cultural learning tool for future generations.
Inspired by the philosophical studies of Rudolf Steiner, the founder of Waldorf Schools, the authors draw upon the works of Einstein, Fibonacci, Schwaller de Lubicz, and other brilliant minds whose scientific, philosophical, and mathematical principles support how harnessing The Infinity Zone enhances the body, mind and spirit.
Packed with photos, illustrations, diagrams, and formulas, "The Infinity Zone" is a fun, educational read that may become required reading in varied levels of education. The e-book is an enhanced version with active links to more in-depth information and interesting facts.
David Brin, author of "EARTH" and "EXISTENCE", says The Infinity Zone is "A nifty tour of gorgeous patterns, fun coincidences and inspiring rhythms in nature, body and mind."
The principle of The Infinity Zone applies to nature, animals, birds, insects, music, physics, martial arts, astronomy, dance, fitness, physical therapy, and sports. It is found throughout history, in ancient cultures and has recently been found to improve mental abilities, including autism and depression. One of its basic principles is the architecture to the program for all life, the DNA molecule.
"Once you read this book, you may never look at the world the same again," says tennis coach Jack Broudy. You'll discover how the geometry in a bee's eyes follows the same mathematical principles that create your fingers as well as galactic strands of stars.
Pallamary states, "The Infinity Zone supports Einstein's observation that everything is energy and that we are all connected through this architecture of a grand physical and energetic design."
The key is to understand and tap into this human physical and energetic design to maximize mental and physical peak performance. Mayberry states that, "The basis of The Infinity Zone lies in easy-to-do movements that align a grounded center point, create balance, and focus coordination, pulling energy from the legs, through the core out to the arms, delivering maximum power efficiently."
A person's arms wielding a whip may only be traveling at 30-40 mph, but as the whip harnesses The Infinity Zone, its energy builds to explode out the tip at over 600 mph.
A hummingbird's wings propel it to incredible power, speed and hovering coordination by executing the motion of The Infinity Zone.
Mastering these movements also aligns the energy throughout the brain, resulting in a calmer, more centered, mind and enhanced awareness.
"The Infinity Zone: A Transcendent Approach to Peak Performance" is available for review as an enhanced e-book and in print format upon request from Mystic Ink Publishing. Please click the contact page to request a review copy. It is also available for purchase at Amazon.com.
A teacher and lifelong student of shamanism, Pallamary concludes, "If you master your energy, you master your life. The Infinity Zone proves that."
Matthew Pallamary's historical novel "Land Without Evil" received rave reviews and won a San Diego Book Award. In December 2012, Land Without Evil will be performed by the acrobatic theatre troupe, Sky Candy at the Stateside Theatre, Austin,Texas and filmed by PBS to be aired nationally in January 2013. Matt's memoir Spirit Matters detailing his journeys from the concrete jungle of Boston to studying shamanism in the jungles of Peru, won San Diego Book Awards' Spiritual Book Category, and was an Award-Winning Finalist in the National Best Book Awards. Matt is originally from the Dorchester neighborhood of Boston and has lived in San Diego for the past 35 years. For more about Matt, visit http://www.mattpallamary.com.
Paul Mayberry was a top Junior Tennis player who now coaches players all over the world. His passions for inventing, music, coaching, mathematics and the philosophy of Rudolf Steiner led to his co-founding Grail Sports Inc. and the 8Board, both based in San Diego, CA. For more about Paul, visit https://grailsports.com
San Diego's Mystic Ink Publishing is an independent publisher focusing on works of a spiritual, shamanic, new age, or transcendent nature. Mystic Ink is currently holding an online contest through Dec 31, 2012 to win a set of first-edition, signed print books by Matt Pallamary on http://www.infinityzonebook.com and http://www.facebook.com/infinityzonebook.