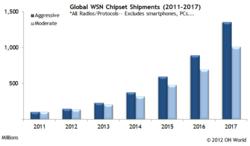 Key development areas are IP addressable sensors, energy harvesting, multi-function chips and body area networks.
San Diego, CA (PRWEB) November 14, 2012
Advanced Wireless Sensor Network (WSN) technologies are driving Internet of Things markets, says ON World, a global technology research firm.
By 2017, at least 1 billion RFICs will be shipped annually for WSN markets. Over the next five years, 802.15.4 and ZigBee will make up the largest market share but low power variants for WiFi and Bluetooth will grow faster.
"Competition among the consumer electronics, home services and automation industries has accelerated WSN development," says Mareca Hatler, ON World's research director. "Key development areas are IP addressable sensors, energy harvesting, multi-function chipsets and body area networks."
Rapid growth of Smart Home services has increased market acceptance of consumer oriented technologies such as WiFi and Bluetooth for WSN applications. With hundreds of millions of WSN chipsets and WSN capable smartphones/tablets shipping per year, developers are differentiating with advanced chipset functionality.
Examples include GreenPeak's dual stack 802.15.4 controller that switches back and forth from ZigBee RF4CE for remote controls and ZigBee PRO for whole home automation, security and energy management. Also, TI's recently announced ZigBee network processor supports ZigBee Smart Energy, ZigBee Home Automation and ZigBee Light Link on one end device. Energy Micro and EM Microelectronic are redefining power consumption limits by increasing battery lifetimes by up to four times and creating devices that can operate on <1 volt, respectively.
Some of ON World's key research findings include the following:

Smart Energy currently has the largest number of WSN developers and products. In 2011, ZigBee Smart Energy made up 41% of the shipped 802.15.4 chipsets.
WSN chipsets for lighting controls will reach 100 million annual units within the next decade.
The migration to LED lights will be a major contributing factor for this growth. GreenWave Reality and Philips Electronics have recently launched wireless LED lighting solutions for North America with the former using NXP's 6LoWPAN platform and the latter using ZigBee Light Link.
Driven primarily by mobile sensing and body area network applications for Sport/Fitness, Health/Wellness and Personal Sensors, Bluetooth Low Energy will be the fastest growing WSN technology over the next five years.
WiFi will be the second fastest growing WSN technology increasing by 1200% between 2011 and 2016.
ON World's recently published report "802.15.4 & ZigBee: Expanding Markets, Increasing Threats" is based on over 900 surveys and interviews with end users, vendors and suppliers. It analyzes the evolving market forces, market segmentation, technology advances and competitive dynamics for IEEE 802.15.4 and ZigBee as well as competing alternatives such as WiFi, Bluetooth, Z-Wave, EnOcean and others.
The report synopsis and a free executive summary is available from: http://www.onworld.com/zigbee
About ON World:
ON World provides global business intelligence on smart technology markets. Our market research and information services are sold to Fortune 1000 companies, startups and investors worldwide. http://www.onworld.com
Media Contact:
Mary E. Purvis
p: 858-259-2397
e: purvis(at)onworld(dot)com