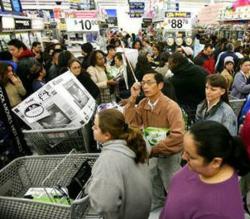 New York, NY (PRWEB) November 13, 2012
Black Friday is Only 10 Days Away....
Online shopping has become one of the fastest and most convenient ways of getting purchases without having to waste time trying on shoes, seeing if clothes fit and going through racks and racks of other treasures at the store. These days, everything that one can possibly ever desire is already available at online retailers. This is a big time savings for shoppers with young children or for those who work odd shifts.
More than 1,000 online retailers participate in Black Friday offerings in one form or another. Big box stores like Walmart, KMart, Sears and Target begin "teasing" the public with their sales up to a month ahead of time. Generally pricing online is quite low and sitewide sales are very commonplace for Black Friday.
Savvy shoppers need to watch for the Black Friday sale announcements for their favorite stores. Some stores have been known to give as much as 70% off of their top selling items. It's not uncommon to at least be able to save 20% on most anything on Black Friday. Many American families do the bulk of their yearly shopping on Black Friday because of all the great sale offerings online. Each and every year these sales get better and better because consumers show their undying interest for the "Bargain of a lifetime."
For consumers that enjoy shopping at a wide array of stores, shopping online on Black Friday is a great idea since it offers the option to visit countless stores to find everything one needs. Even when shoppers don't know exactly what they are looking for, the fabulous Black Friday offerings online give plenty of reasons to splurge on even some of the most unimportant things one desires to own.
Remember the Black Friday Sales only happen once time every year which means wise shoppers need to have their homework done beforehand to be able to make the most out of their online shopping experience. It is a good idea to compare prices, manufacturers, shipping costs (many retailers offer free shipping for Black Friday purchases). The best thing about shopping online is that all items are delivered to your home without having to line up at the payment counter. Additionally, retailers don't only offer gift items on Black Friday, they also offer many household things like furniture, washing machines, refrigerators, etc. at the best prices of the year and sometimes they'll even throw in 12 months same as cash payment terms.
All these wonderful perks are now yours for the taking, thanks to the magical Black Friday online sales -- all one needs to do now is to not let it off your fingertips. Find Walmart Black Friday Deals, Amazon.com Black Friday Deal of the Day, KMart Black Friday Sales and Kohl's Black Friday Ad.