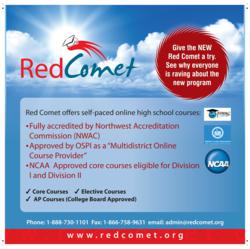 Prosser, WA (PRWEB) November 13, 2012
Red Comet offers a complete online program that is both rigorous and engaging. Red Comet, which was approved as a Multi-district Online School Program Provider by the Office of superintendent of Public Instruction (OSPI), has teamed with Toppenish School District to create its first online program in conjunction with a school district. Red Comet's online program excels not only in the breadth of its offering but also has received the best ratings for student satisfaction in Washington State. Red Comet's online learning is engaging and presents even the most challenging topics in a way that students can understand. Students taking our online high school classes are challenged using a variety of learning techniques which makes learning interesting while keeping them motivated to complete their courses within the allotted schedule.
The restructured assessment techniques that were introduced as part of the updated CMDS now include multiple methods to assess student learning. Practice tests allow students to self-test and decide if they are well-prepared to take the final tests. Final exam consists of several multiple-choice tests and an essay; the multiple-choice tests utilize several different formats that can test both breadth and depth of understanding. Students must submit several practice assignments that need research on outside topics that are related to the course curriculum; these assignment submissions are evaluated by Red Comet teachers who provide clear and effective feedback to students. Students must study several passages on topics related to the course curriculum and successfully complete all the associated reading comprehension questions.
An extensive set of question bank is available from which the CMDS randomly chooses an appropriate set of test questions. All test questions, and the answer list presented for that question, are also randomized. No two students will be administered the same set of final test questions and answers.
Another important feature is that students will not be allowed to move further unless they have grasped and fully understood the current lesson plan. Only when they have demonstrated enough mastery of the subject matter will they be allowed to tackle more complex material. This point has been stressed by many educators and innovators including Mr. Salman Khan who made the below comments on a recent Diane Rehm radio show on the National Public Radio:
"We have this model where we keep pushing --we group them in these age-based cohorts and we push them along. We have a set time and pace when they're supposed to learn certain things. So, in week three in the algebra course we're covering quadratics. The information is delivered, some homework happens, and then there's a test. Some students get an A, some get a B, some get a C and some even fail the exam. And even though we've identified these gaps in the knowledge, because of the way the system is architected, we push them all forward somehow expecting the student who got a C or a D or an F in the basic concept to now be able to comprehend the next one. It's like a factory line; the factory line's moving at a set pace. It doesn't matter if there are defects emerging."
"Throughout our program, we emphasize quality learning versus simply moving on. All assessments provide clear guidelines on expectations for quality. For examples, Essay tests provide sample essays so that student knows what level of detail is expected in their final essay submissions. Practical assignments provide guidelines on what Red Comet teachers expect to see in student submissions. Practice tests that appear throughout the curriculum provide instant feedback on incorrect responses. We believe that this approach is very beneficial to students since they can always estimate how prepared they are to take the final tests" said Dr. Jay Srinivasan, Managing Director of Red Comet.
Students throughout the country use Red Comet's high school classes that include all core subjects – Language Arts, Science, Mathematics and Social Studies, as well as numerous high school electives. A variety of students use Red Comet's online learning program – students in need of credit recovery, students attending public high schools who cannot attend all of their high school classes, students attending private schools who are looking for electives or Advanced Placement classes, home school high school students who need help in specific subject areas, athletes, students with part-time jobs etc.
For Immediate Release
Contact Information:
Dr. Jay Srinivasan
Managing Director,
Red Comet
1-888-730-1101
jay(at)redcomet(dot)org