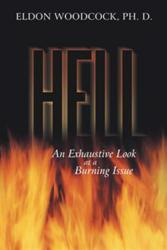 If Scripture is obscure, he is tentative; if Scripture is silent, he is silent; if Scripture is clear, he takes the straightforward approach and does not look for any other meaning
HAWLEY, Pa. (PRWEB) November 14, 2012
"You look like hell," exclaimed the woman to a disheveled man. "Damn, no cell," is a common street phrase. "Hell to Pay" is a book about Hillary Clinton. "Give 'em hell," was said to Harry Truman who was running for election. "It was hell," described a long illness. "What in the hell are you doing?" is just a filler word. "He is one hell of a guy," is actually a compliment. "Hell, yes," is an expression of happy agreement. All these examples trivialize "damn" or "Hell" – terms that once brought terror to the heart. It was this softening that prompted K. Neil Foster, CEO of Christian Publications, to commission Eldon Woodcock, Ph.D. to pen the new book, "Hell: An Exhaustive Look at a Burning Issue" (published by WestBow Press).
Woodcock is an established Biblical scholar, with a well-earned reputation as a thorough researcher. Together they were both concerned about the softening of the word "Hell" even among evangelicals. Foster expressed his belief that this would be his crowning achievement and it is.
The author practices sound hermeneutics. "If Scripture is obscure, he is tentative; if Scripture is silent, he is silent; if Scripture is clear, he takes the straightforward approach and does not look for any other meaning," he states. In all of his 50 years of being immersed in the Word, he is only as dogmatic as the text of the Scriptures allows. However, he strives to be fair with anyone with whom he disagrees.
Although, according to Woodcock, there are many reasons for the saved to witness to the unsaved, "such as God the Father sent His only perfect Son from His glorious presence to come to earth as a man to die for our sins, thus, qualifying us to share in the inheritance of the saints in the kingdom of light." He adds that, "The Holy Spirit walks with us, guides us, and comforts us all though life. However, nothing – absolutely nothing – is more urgent for the unsaved, than facing the reality of Hell, i.e., everlasting torment. The Holy Spirit brought the biggest revivals through Hellfire evangelists."
This book is well referenced, making it easy to navigate for specific topics. The target audiences are professors, pastors, Bible and seminary students, and the biblically informed lay person. "Our prayer is that the readers will find concrete answers to their questions regarding Hell. Is it indeed a place for the wicked to experience everlasting, conscious punishment or is the Bible saying something else?" Woodcock asks.
The author handles scholars who do not believe in eternal punishment as philosophers who make compelling arguments. However, he also recognizes this belief as a dangerous slippery slope downward away from biblical authority and the truth.
About the Author
Eldon Woodcock earned his Ph.D. from Duke University and Th.M. from Dallas Theological Seminary. His extensive Bible/theology teaching career ended with 30 years at Nyack College.
WestBow Press is a strategic self-publishing alliance of Thomas Nelson, Inc., the world's largest Christian publisher, and Author Solutions, Inc. (ASI) — the world leader in the popular self-publishing industry segment. Through this partnership, authors benefit from the rich publishing heritage of Thomas Nelson and the speed-to-market advantages of the ASI self-publishing model. Titles published through WestBow Press are evaluated for sales potential and considered for publication under the Thomas Nelson imprint. Thomas Nelson, Inc. continues to "inspire the world" with distribution of products in more than 100 countries worldwide. For more information, or to start publishing today, visit http://www.westbowpress.com or call (866)-928-1240. Follow us @westbowpress on Twitter for the latest news.
###