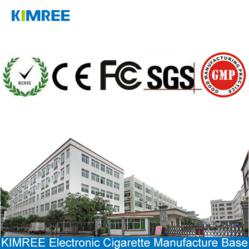 KIMREE regards product security as enterprise's life.
(PRWEB) November 14, 2012
Recently, electronic cigarette manufacturer KIMREE has introduced X-ray fluorescence analysis tester (XRFA) to strictly control its products, from raw materials to finished product delivery for all overall aspects. This still is first in the electronic cigarette industry.
As the world's largest electronic cigarette production base, KIMREE pays great attention to product safety. From design to production, every electronic cigarette made by KIMREE must pass through the strict safety control. As early as in 2010, its many kinds of electronic cigarettes have passed the RoHS authentication.
However, KIMREE does not think it is enough. "In the traditional sense, for passing the RoHS authentication, a company selects a few samples from numerous products and sends them to a lab for testing. If the experimental result meets the standard, the company will pass the RoHS authentication." QA Manager Peter explained: "But in the strict sense, when the samples passed the authentication, it cannot guarantee all products could pass the authentication."
"In order to ensure all products meet the RoHS requirements and provide the highest quality products, with precise and responsible attitudes for the customer, we resolutely decided to introduce XRFA. Now, all products include materials can be tested by ourselves. We test every batch of incoming materials to ensure that they do not have any problems. Fails to meet the requirements of the RoHS authentication shall be resolutely disposed, to ensure KIMREE's every electronic cigarette, every electronic cigarette component is safe, reliable, and no harm," KIMREE CEO Jack said.