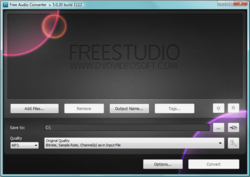 New York, NY (PRWEB) November 14, 2012
The DVDVideoSoft team announces today release of the newest version of Free Audio Converter, an audio converter for Windows platforms. This very simple in use, yet very powerful, application renders a tremendous ability to convert from one audio format to another.
With Free Audio Converter conversion opportunities exceed one's expectations. The program has been able to convert all currently popular audio formats such as MP3, WAV, OGG, FLAC, APE, etc. Now the program is enriched with the upgraded high quality MP3 converter presets: "STANDARD", "EXTREME" and "INSANE" which create superior quality audio.
The most outstanding feature of the program is its simple usage. With Free Audio Converter conversion efforts are minimized to browsing input files and choosing desired format for the output ones, all the job is done by the program.
At the same time the audio conveter preserves its everlasting features such as maximum functionality and, what is more important, it is free and fully safe to install and run.
The DVDVideoSoft spokesman: "Our Audio Converter is released to match the needs and requests from our demanding users who always want to keep up with modern technology and benefit from our programs. The program is the best MP3 converter as together with self-explanatory design the programs offers you the whole range of audio conversion possibilities."
The DVDVideoSoft team, the leading developer group of multimedia software, is welcoming everyone on their website http://www.dvdvideosoft.com for direct download of Free Audio Converter.
About DVDVideoSoft:
DVDVideoSoft is an independent developer of multimedia software programs for video and audio processing. The company was founded in 2006 as an affiliate distributing paid software. Today DVDVideoSoft offers 48 applications which are multifunctional and intuitive to use, writes step-by-step instructions on how to solve different multimedia tasks with the help of its programs and, if necessary, provides free comprehensive support in English, German, French, Spanish, Italian, Russian and Japanese. The amount of everyday visitors to http://www.dvdvideosoft.com is constantly growing and today reaches 400,000.