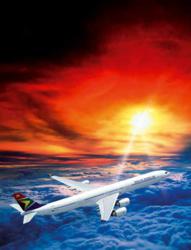 SAA has worked hard to enhance its onboard offerings and the quality of our product, while also expanding into more of Africa by adding new cities to our extensive route network throughout the continent. - Todd Neuman
Ft. Lauderdale, FL (PRWEB) November 13, 2012
South African Airways (SAA) has been named "Best Airline to Africa" and "Best Airline in Africa" by Premier Traveler Magazine, further solidifying SAA's position as Africa's most awarded airline. The magazine recognized South African Airways as "the unrivaled choice for flying to Africa" after more than 10,000 readers known for their discriminating tastes voted for their favorites. South African Airways' Executive Vice President for North America, Todd Neuman, proudly accepted the award on the airline's behalf at the magazine's awards gala in Los Angeles on Nov. 9th.
"We're pleased and honored to have received these prestigious awards from Premier Traveler and thank the readers for selecting South African Airways. Premier Traveler's readers are discerning travelers who recognize high quality products and service, especially when it comes to selecting international travel," said Neuman. "SAA has worked hard to enhance its onboard offerings and the quality of our product, while also expanding into more of Africa by adding new cities to our extensive route network throughout the continent."
South African Airways has introduced new service to cities such as Brazzaville (Republic of Congo), Abidjan (Ivory Coast), and Cotonou (Benin), among other cities that it has added to its already-extensive route network on the African continent. It is also featuring meal selections from South African star chefs, first with Chef Reuben Riffel, and now with Chef Benny Masekwameng, a judge on South Africa's Master Chef TV series. Earlier this year the airline also accepted the Skytrax World Airline Awards for Best Airline in Africa for the 10th consecutive year and the Best Staff Service in Africa for the 3rd consecutive year.
"We know that it's a long flight to South Africa and we will continue to offer comfortable lie-flat seats, the best of South Africa's award-winning wines, gourmet cuisine, plus extensive entertainment options complemented by our unique brand of South African hospitality," added Neuman.
About SAA
South African Airways features daily nonstop service from the U.S. to South Africa with morning departures from New York JFK and afternoon direct service from Washington Dulles (with a stop in Dakar, Senegal) that offer travel convenience and award-winning service. Travelers in Premium Business Class enjoy 180° fully flat-bed seats, and in Economy Class enjoy the most legroom versus competitors. Every seat on board offers an individual on-demand entertainment system, plush pillow, warm blanket and amenity kit. SAA's unrivaled network, featuring seamless connections to nearly 20 destinations within South Africa, and more than 25 cities across the rest of the continent, makes the airline the savvy traveler's "gateway to Africa." To complement this network, a world of privileges awaits those who join Voyager, South African Airways' premier mileage program. To sign up, visit http://www.flysaa.com, and link to the Voyager icon. As a Star Alliance member, South African Airways is able to offer its customers 1,356 destinations in 193 countries and more than 21,500 flights daily, including convenient connections from more than 25 cities in the U.S. through code share service with Star Alliance member United Airlines. Members of United's, US Airways' and Air Canada's frequent traveler programs are able to earn and redeem miles on all SAA flights. For more information on South African Airways, please call (800) 722-9675 or visit http://www.flysaa.com, where travelers can sign up to be notified of other great travel deals and vacation packages. For information about South Africa, visit http://www.southafrica.net.