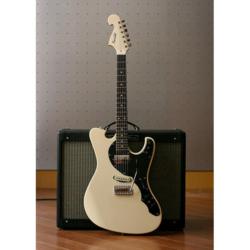 "We're very excited to have some of the most talked about and biggest-selling UK artists currently designing guitars with Farida."
(PRWEB UK) 29 November 2012
Farida guitars' rapid growth in the UK market should come as no surprise. The Eastern brand has been building guitars for decades, including a sizeable amount for some of the biggest and most renowned brands. Despite its apparent 'youth', then, Farida has maturity beyond its years. Nowhere is this more apparent than in its Artist Designed range, a highly successful project coordinated by UK distributors for Farida, Dawsons Music. Previous acoustic models for Frank Turner and Steve Rothery have been truly great instruments, equal to just about anything on the market.
Now, the brand is pleased to announce two new models in this stunning collection: The Farida JT-60 2DCC Sam Halliday (Two Door Cinema Club) model, and the Farida CT-20 Murph (The Wombats) model. In a departure from previous guitars in the range, both of these are electric models. Constructed to Farida's exemplary standards, both instruments have aesthetics that are clearly informed by vintage designs. Both will be limited to just 25 numbered instruments worldwide.
Both guitars also have idiosyncratic design touches that set them apart others in the market place: The JT-60 2DCC has a delay built into the lower horn, and the CT-20 has a unique T-Bucker circuit that allows the two single-coil pickups to be 'ganged' together. The guitars were designed in conjunction with the artists, as a 'no-compromise' instrument of their specification. As the artists Farida has approached are incredibly unique, so are the resulting instruments.
In this way these two guitars provide an excellent illustration of the ethics that underpins Farida Guitars. It appreciates that many players who pick up a guitar, want to create great music and write great songs, and want an instrument that will deliver excellent tone and playability with the minimum of fuss. Not everyone, after all, wants to be a 'shredder'. The brand also understands that it is in a position to help the talent of today become the stars of tomorrow: Farida has been involved with Two Door Cinema Club, Frank Turner and others for many years now.
These artists are very much in-tune with the brand's slightly more 'left-field' and 'independent' approach, which is in itself, refreshing in an area of the musical instrument world that can be very conservative. Its determination to support the UK's musical talent does not end here, however, and nor does the Artist Designed range.
UK brand manager, Sam Salisbury, is already in the process of finalising the details of 'Artist Designed' guitars, for players from some of the UK's hottest bands. Salisbury states, 'It has been another great year for Farida. Over the summer, Farida artists played some the biggest stages and festivals in the world, and it's really gratifying to see that these artists not only 'get' the brand, but love the instruments and are inspiring the next generation of musicians with them.'
Of the next 'Artist Designed' models, he simply says, 'We're very excited to have some of the most talked about and biggest-selling UK artists currently designing guitars with Farida. I wish I could tell you more. Watch this space…'
The Farida JT-60 2DCC Sam Halliday and Farida CT-20 Murph are due to arrive during Q1 of 2013.
Editors Notes
Farida Guitars are manufactured in China by Farida and are distributed in the UK by Dawsons Music Ltd.
Website http://www.faridaguitars.co.uk
Twitter @FaridaGuitars
Facebook http://www.facebook.com/pages/Farida-Guitars