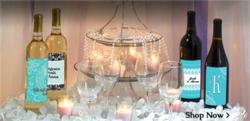 South Whitley, Indiana (PRWEB) November 13, 2012
The expense of a wedding coordinator is too much for some couples to afford, so many are choosing DIY or "do-it-yourself" weddings. Shindigz, a large, online, party supplies retailer, reports an increase in the number of brides choosing economical, do-it-yourself wedding supplies.
"There are so many websites, books, and other guides for do-it-yourself brides," says Jacquie Downey, Director of Sales and Marketing at Shindigz. "At Shindigz, we've more than enough unique and gorgeous wedding items to help even the least creative bride plan a beautiful wedding."
Shindigz offers one-stop shopping for DIY wedding decorations and favors. The weddings sections of the web site supply ceremony items, cake supplies, custom favors, photo invitations or thank you notes, personalized theme decorations, decorations, and tiaras. Downey notes, "Brides like to use the personalization tools on the web site to make one-of-a-kind decorations and favors including mint tins, drink coasters, candy bars, and photo frames.
"Anytime you can make something personal, it will have lasting impact," Downey adds. "Couples love sending wedding guests home with a personalized memento of their special day."
When it comes to making decorations, it's never been easier for brides to find the materials they need. There's also no shortage of ideas out there for the do-it-yourself bride. Websites like DIY Weddings and The Knot have pages and pages of ideas and instructions on how to create the perfect wedding atmosphere, while Shindigz has many of the materials needed for such projects.
About Shindigz
Since 1926, Shindigz has "made life more fun" for 22 million events through the manufacture and sale of personalized party supplies. It ships products from its facilities in South Whitley, Indiana across the United States, and around the world to 59 countries. With more than 34,000 products, the company provides customers with a complete party solution.