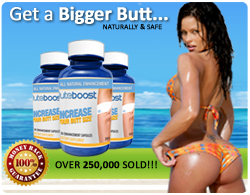 Men Prefer Curves!
Los Angeles, California (PRWEB) November 14, 2012
Gluteboost, a leader in buttock enhancement pills thanks Chuy and Chelsea Handler of the Chelsea Lately Show for recognizing Gluteboost as an all natural butt enhancement supplement.
According to Chuy, he wanted to help Chelsea Handler get a bigger butt by buying her 4 bottles of Gluteboost. The owner of Gluteboost announces "that he would be ecstatic if Chelsea actually took the four month supply of Gluteboost and provided Before and After Photos!"
Gluteboost, known for developing a product line that will ensure you get a bigger booty has uploaded a clip of the showing on their website. It was brought to Gluteboost's attention that the Chelsea Lately show learned of Gluteboost after several media streams such as the Huffington Post and Yahoo News posted a story that a 61 year old teacher believes that her high school student spiked her coffee with Gluteboost. You can read the full story on several online news outlets such as thesmokinggun.com, gawker.com or msn.com.
Gluteboost has released an official statement saying "they do not condone this type of behavior, nor intend for anyone to use gluteboost in any other way then as directed." Gluteboost representatives continued to add "Gluteboost is an all natural buttock enhancement supplement intended to increase the size of your buttocks, while improving your overall health. Our focus has been to give your average butt size the opportunity to reach the sizes of our favorite celebrities such as Kim Kardashian, Coco, Shakira, Nicki Manaj and Serena Williams to name a few. Gluteboost's butt enhancing pill is the solution for women searching for the way to imitate these famous stars and their voluptuous figures."
Several articles in FHM Men's Magazine also reveal to readers that men prefer curves over stick figures.
Gluteboost owner explains how "there are many tricks and attempts to cheat your way to a bigger butt, however Gluteboost recognized that the only way to actually make your buttocks grow from the inside out without any fake padding or painful butt implants is to take a supplement that encourages growth specifically in the glutes. Gluteboost orders of butt enhancement pills are flying off the shelves.
Customers are getting hooked on these pills because they truly are seeing results."
All-natural hormone boosters like Maca Root and Fenugreek are blended in Gluteboost to help anyone achieve a larger and attractive buttocks. Gluteboost plans to launch a buttock enhancement cream in the near future. Testimonials and before and after pictures can be found on Gluteboost's website.
About GluteBoost
GluteBoost is an all natural formulation of herbal supplements designed to increase your glute size while trimming fat from unwanted areas. The Gluteboost product is made in FDA approved facilities with over 250,000 pills sold to date. Gluteboost embraces customer feedback, has top-rated customer service, and boasts a 100% satisfaction guarantee. For more information please call toll-free at 1-800-926-6787 or email jw(at)gluteboost.com .