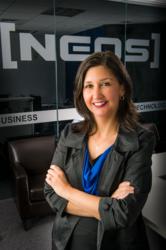 Hartford, CT (PRWEB) November 14, 2012
Carla Gregory of NEOS LLC, Hartford, CT, has been named the winner of a Bronze Stevie® Award in the Female Executive of the Year Business Services category in the 9th annual Stevie Awards for Women in Business.
The Stevie Awards for Women in Business are the world's top honors for female entrepreneurs, executives, and the organizations they run. All individuals and organizations worldwide are eligible to submit nominations – public and private, for-profit and non-profit, large and small. The 2012 awards received entries from 17 nations and territories.
Nicknamed the Stevies for the Greek word for "crowned," the awards were presented to winners during a dinner at the Marriott Marquis Hotel in New York City.
More than 1,200 nominations from organizations of all sizes and in virtually every industry were submitted this year for consideration in a wide range of categories, including Entrepreneur of the Year, Executive of the Year, Company of the Year, Mentor of the Year, Women Helping Women, and Communications Campaign of the Year, among others. Carla won in the Women In Business category for Business Services – 11 to 2,500 Employees.
Carla's unique skills have driven NEOS' third and newest practice area, business consulting, and she has also helped the firm evolve to what it is today. Through new, adaptive business processes and a predictable management structure, Carla maximizes operational efficiency for the firm and drives results for its clients.
"Carla is critical to the success NEOS has experienced in recent years and to the overall professional culture here. I can't imagine our firm without her leadership and strategy-driven approach," said Ernst Renner, CEO and Managing Partner of NEOS. "We are not surprised that the Stevie Awards have recognized Carla's abilities and accomplishments. We are proud of Carla and congratulate her on this win."
Robert Nocera, Chief Technology Officer and Partner, says "Carla plays a crucial role in NEOS meeting its goals. She is particularly effective in helping clients understand the correlation between product, process, technology, data and organization, which is critical to our firm."
Stevie Award winners were selected by more than 200 executives worldwide who participated in the judging process this year.
"I'm very pleased that we were able to conclude our tenth year of organizing Stevie Awards programs with a very successful Women in Business event," said Michael Gallagher, president and founder of the Stevie Awards. "This year's Stevie Award-winning women are the most accomplished, impressive group we've ever had. Their stories of success will be an inspiration to women around the globe who dream of starting and growing a business and making a difference in the world."
Details about the Stevie Awards for Women in Business and the list of Stevie Award winners are available here.
About NEOS LLC
NEOS is a management consulting and technology services firm with unparalleled experience in holistic modernization, enterprise data and business operations consulting throughout the US, Europe, the Middle East and Asia. Clients range from large mid-cap companies to the Global 1000 segments including financial services, insurance and media. Services also include process, organizational and operational consulting, enterprise architecture strategies and design, reviews and planning, deployment and data analysis. NEOS is the parent company of Vgo Software that specializes in modernization analysis and conversions solutions.
Contact: Ann Woods, Marketing & Public Relations at 860.519.5601, ext. 136 or email: contact(at)neosllc(dot)com.
About the Stevie Awards
Stevie Awards are conferred in four programs: The International Business Awards, The American Business Awards, the Stevie Awards for Women in Business, and the Stevie Awards for Sales & Customer Service. Honoring organizations of all types and sizes and the people behind them, the Stevies recognize outstanding performances in the workplace worldwide. Learn more about The Stevie Awards at http://www.StevieAwards.com.