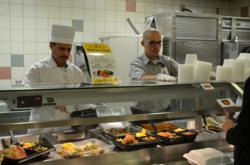 Loma Linda, Calif. (PRWEB) November 13, 2012
Loma Linda University Health has been recognized by the American Heart Association as a "Gold Fit-Friendly Worksite" for encouraging a culture of wellness at the workplace, called "Living Whole."
Loma Linda University Health also was chosen to receive the "Worksite Innovation Award," for the "Living Whole Paging My Health Program," a regular reminder system for employees about their health.
The initiatives at Loma Linda University Health are all part of the Living Whole Employee Wellness Program and include:

Health risk assessments, allowing employees to receive an individual report on such topics as stress, fruit and vegetable consumption, and sleep, and a free one-on-one consultation with a registered dietitian.
"Breathe Program," a one-on-one tobacco dependency treatment program.
"Better Understanding for Individuals Living with Diabetes (BUILD)," a disease management program that closely monitors employees with Type 2 Diabetes.
"Living Whole Wellness Meals" made available to employees, designed to meet specific nutrition criteria.
"Through your ongoing efforts to provide a culture of corporate wellness, your organization has demonstrated extraordinary, tangible results," said American Heart Association CEO Nancy Brown. "The creativity and leadership within your organization are an inspiration and you can be proud of the positive health impact you are making."
Dr. Richard Hart, president of Loma Linda University Health, said the designation recognizes the institution's priority of providing a healthy workplace for its employees.
"Our mission as an institution is to continue the teaching and healing ministry of Jesus Christ, and that mission starts where we work," he said. "We are proud to be recognized as a workplace where wellness is given high priority and our employees can work within a healthy environment."
The Fit-Friendly program recognizes employers who champion the health of their employees and work to create a culture of physical activity and health in the workplace. Worksites may also apply annually for the "Innovation" award, given to worksites that creatively implement programs to promote physical activity in the workplace. The recognition is valid for one year.
Photo caption: Giving priority to wellness is a main reason for Loma Linda University Health being named a "Gold Fit-Friendly Worksite" by the American Heart Association. In the picture, Wellness Chef Iaed Amen (left) and Cafeteria Manager Tracy Fisher serve "Living Whole Wellness Meals," meals designed to meet specific nutrition criteria, to employees and guests at Loma Linda University Medical Center cafeteria.
###
About Loma Linda University Health (LLUH)
Loma Linda University Health is the umbrella organization encompassing the university's eight professional schools, the medical center's six hospitals, and physician groups located across the Inland Empire in Southern California. Since opening its doors to patients and students in 1905, LLUH has become one the nation's health care leaders in education, research and clinical care. LLUH offers more than 100 degree and certificate programs and provides evidence-based medical care to over 40,000 inpatients and more than 1.5 million outpatients in its adult and children's hospitals annually. As a Seventh-day Adventist organization, LLUH is a faith-based health system with a mission of continuing the teaching and healing ministry of Jesus Christ.