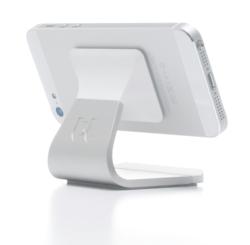 Pasadena, Calif. (PRWEB) November 13, 2012
Bluelounge today takes its phenomenal success with the Milo phone stand to new heights with the inclusion of a beautifully machined, solid Aluminium body. The quality of the new material adds stature to an already popular product and perfectly complements the Japanese micro-suction pads that make Milo so magical.
The new Milo with its stunning satin-Aluminium finish, combined with black or white micro-suction pads, stands on par with other high tech accessories dotting one's desk.
Milo Aluminium is available in White Aluminium and Black Aluminium at a suggested retail price of $29.95. Bluelounge products are currently available online and at select retailers worldwide. To find a retailer nearby, please visit our store locator.
For more information on Milo, visit http://www.bluelounge.com/products/milo/.
Follow Bluelounge on Twitter at http://twitter.com/bluelounge and on Facebook at http://facebook.com/bluelounge for the latest news on all Bluelounge products.
About Bluelounge
Founded in 1999 by designers Dominic Symons and Melissa Sunjaya, Bluelounge is a multidisciplinary design studio that creates a synergy of product, graphic and interactive design, as well as original illustration. Bluelounge-brand products are available at over 100 U.S. locations and through 35 international distributors, promotional agents and licensees. Bluelounge has offices in Los Angeles, Singapore and Jakarta, Indonesia. In addition to their own branded products, Bluelounge has undertaken design commissions for major corporations such as Airwalk, Microsoft, Panasonic, and Trina Turk.
Note to reporters: High-res images are available here: http://www.bluelounge.com/media/gallery/milo/
# # #
Media Contact:
Kaitlin McIntyre
Bluelounge
P | 626.564.2802 ext. 706
kaitlin(at)bluelounge(dot)com