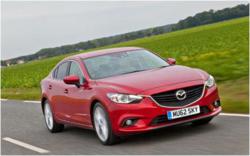 (PRWEB UK) 13 November 2012
There is a lot to like about the new Mazda 6, especially for company car owners because of the number of SKYACTIV technology tweaks, resulting in having a more attractive re-sale value and lower fuel costs among other benefits. Business Car Manager has released a new article with more details. A new review will also be released following its launch.
The new Mazda 6 promises to be a much more attractive proposition for company car buyers than the old one – thanks to a set of efficiency tweaks Mazda has bundled together under the name SKYACTIV.
Lower fuel consumption means fewer visits to the pump, while reduced emissions ease the company car tax burden – and residual values experts CAP reckon the improvements should produce a big boost in resale prices compared with the out-going model, as much as 7.5 per cent over three years and 60,000 miles.
On that basis a diesel-engined Mazda 6 saloon should be worth 31.6 percent of its original value compared with the Vauxhall Insignia (average value 23 per cent), Ford Mondeo (28 per cent), VW Passat (29 per cent), Honda Accord (30 per cent) and Toyota Avensis (31 per cent). The Audi A4 and BMW 320d EfficientDynamics retain a bigger percentage of their original value, but they're a lot more expensive to start off with.
Jeff Knight, Editor of CAP's Monitor guide, said: "Key from a fleet perspective is emissions; like the recently launched Mazda CX-5 the Mazda 6 has been built around the manufacturer's SKYACTIV Technology. This enables the 150ps diesel engine to deliver a CO2 figure for the Saloon of 108g/km placing it at least one company car tax band below virtually all the competition."
Business Car Manager has a variety of useful guides including business car finance, company car news and detailed reviews including Volkswagen reviews among others.
For more information, visit Business car Manager at http://www.businesscarmanager.co.uk/.