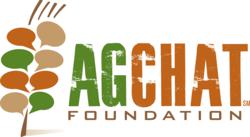 Everyone has to eat. Social media provides a space to talk about this common thread that unites us.
MINNEAPOLIS (PRWEB) November 14, 2012
Whether it's the harvest on the family farm or dish on the dinner table you're thankful for this holiday season, social media users can share their appreciation for food and those who provide it with the hashtag #foodthanks, a campaign started in 2010 by the AgChat Foundation.
"For the third year in a row, we are taking time during the holidays to inspire conversation about an appreciation for the food we eat and the people who produce it," says Darin Grimm, president of the AgChat Foundation. "Everyone has to eat, and social media platforms provide a space for people to talk about this common thread that unites us."
New this year an additional social media channel, Pinterest, joins Twitter in the food appreciation movement. Participants can follow the #foodthanks board on Pinterest and "pin" must-try recipes, food photos and other related images to the virtual bulletin board, as well as comment on what others have pinned."
"Pinterest is visual in nature, so it creates the opportunity to see and discuss the images people from farmers to chefs to food companies to moms are pinning related to the food system," says Emily Zweber, executive director of AgChat Foundation. "I'm pinning things like healthy recipes from chefs, tasty desserts from bloggers, and beautiful stories of farmers and ranchers who grow our food."
The official website for #foodthanks (http://www.foodthanks.com) leads users to either Pinterest or Twitter sites to begin using the hashtag and adding to the conversation.
Last year, more than 1,000 people shared 3,112 tweets using #foodthanks in the time leading up to Thanksgiving. The goal for this year is 1,000 followers on Pinterest and to surpass last year's number of tweets.
"The campaign is kicking off right now, in conjunction with the holidays, but #foodthanks is something that can continue year-round," says Zweber.
##
About AgChat Foundation, Inc.
A group of farmers and ranchers created the AgChat Foundation after connecting through the now highly visible "#AgChat" community on Twitter, a weekly moderated chat where agriculturists discuss various issues, tell their farm and ranch stories and identify ways to connect with people outside of agriculture. The Foundation strives to educate and equip "agvocates" with the skill set needed to engage consumers through social media services, giving them the knowledge to unlock new tools to effectively tell their story. For more information, visit AgChat.org.