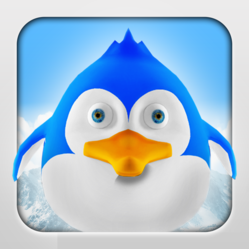 Go Penguin Go is being called addictive and incredibly fun.
Pittsburgh, PA (PRWEB) November 14, 2012
Ever dream about sliding headfirst down an icy ski slope at full speed? How about sliding to escape the Yeti chasing right behind you? Now, using an iOS or Android device users have the chance to experience first-hand the exciting, fully interactive experience of Go Penguin Go, the latest iOS and Android app.
From the same iOS and Android developers who brought the app world Zombie Blade, Go Penguin Go incorporates the full tilt and tap interface of the most popular iOS- and Android-powered devices to challenge users' reflexes and skills.
Players pilot their penguin down icy courses and jump to collect eggs throughout their journey that offer power-up and character upgrades. Courses offer unique challenges, but no challenge is more important that escaping the Yeti persuing just behind.
Like other popular chase-and-race game apps for iOS and Android devices, Go Penguin Go is being called addictive and incredibly fun. The further players progress, the more character upgrades they can access, such as Bling Bling Penguin and, for those Pittsburgh fans, the Black N Gold Penguin.
Go Penguin Go is now available in the iTunes and Goole Play app stores. Users who download Go Penguin Go will also be able to take advantage of the game center leaderboard to compete with friends and other gamers.
For a demo video please visit http://www.Brainkandydesign.com.