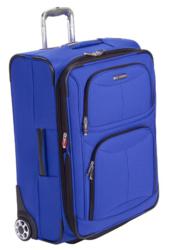 Hanover, MD (PRWEB) November 14, 2012
Traditionally over 40 million Americans travel more than 50 miles from their home each Thanksgiving, to connect with friends and family in all corners of the country. Recognized as one of the most travel intense weekends in the year, packing becomes just another part of life to be thankful for.
Whether people are cramming into a sedan, or dashing through crowded airports, there are a few packing tricks that can take some of the stress out of Thanksgiving weekend travel.
Travel light
First and foremost, select a suitcase that isn't one of the items weighing things down. Delsey develops lines of luggage with the latest technology and succeeds in offering bags that are both lightweight and durable. With carefully selected EverLast Polyester and EVA foam backing, the Helium Fusion 3.0 series is an accessible collection that maximizes protection while minimizing pounds.
Step two, pack only what is needed. Making the commitment to travel light will ensure packing (and equally as important, unpacking!) is a much easier task. Taking some time to check the destination weather forecast will help travelers choose appropriate attire. Best of all, by packing light, there may just be some room to pick up a few souvenirs along the way.
Leave room to maneuver
People are often packed perfectly, maximizing each nook and cranny of the luggage. But what about those extra items that may need to be brought home? Could a friend or relative have something to pass along? Is shopping on the agenda?
Designed with the traveler in mind, the Helium Fusion 3.0 Trolley bags feature two additional inches of packing space with the expandable zip, to accommodate new treasures. Exclusive to Delsey, the bags also include the patent-pending Over Weight Indicator, which signals packers when their bag exceeds the standard 50 lbs limit, and providing peace of mind by avoiding overweight baggage fees at the airport. And in case the bag is over the limit, the Pocket Tote-a-Long clip with an adjustable webbing strap effortlessly attaches another bag to the Delsey Helium Fusion 3.0.
Pack smart
Once the correct combination of clothing is selected, these items need to be properly placed in the suitcase. A multitude of zippered pockets inside the Delsey Helium Fusion 3.0 enable precise packing and organization. Travelers can simply think of what they will do when they arrive, then, arrange accordingly. Tops and bottoms can be sorted with a suiter clip on the main lid and tie down straps for added security. Footwear can be neatly stored in the Delsey shoe pouch. The Delsey Helium Fusion 3.0 collection has two external pockets, perfect for tickets, electronics, books and magazines that may need to be retrieved during the trip.
Delsey creates suitcases recognized worldwide for their quality standards and outstanding value. Regardless of what plans people have this Thanksgiving weekend, stress free packing can be at the top of the list.
The Delsey Helium Fusion 3.0 comes in sleek black and attractive blue. The collection, available at most department stores and specialty luggage shops, offers an excellent price quality ratio with the carry on trolley priced at $99.99.
Delsey Helium Fusion 3.0 Style Numbers, Sizes and Weights,
27818 Trolley Tote 17" x 6.5" x 13" 5.2 lbs
27819 Personal Bag 15" x 9" x 11" 1.6 lbs
27828 Trolley Duffel 28" x 14" x 14" 7.0 lbs
27853 Trolley Garment Bag 42" x 24" x 4"(open dim.) 10.2 lbs
27858 B/O Garment Bag (Black only) 42" x 22" x 3"(open dim.) 4.6 lbs
27874 Carry-on Exp. Suiter Trolley 21" x 8.25" x 13.5" (+2" exp.) 7.9 lbs
27877 25" Exp. Suiter Trolley 25" x 9" x 17.5" (+2" exp.) 9.9 lbs
27879 29" Exp. Suiter Trolley 29" x 11" x 19.5" (+2" exp.) 11.8 lbs
http://www.delsey.com/products/travel/helium-fusion-30
About Delsey, http://www.delsey.com
For more than 65 years Delsey has been offering consumers luggage which brings together timeless quality and innovative design, to accompany travelers on all types of professional and personal journeys. Recognized for a wide range of luggage lines that are both lightweight and durable, Delsey offers a suitcase for every traveler. Today Delsey is present on all 5 continents and in more than 130 countries. A Delsey bag is sold every 10 seconds.