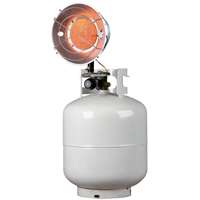 Destin, FL (PRWEB) November 14, 2012
The fall season is here, and with it comes cold weather all across the United States. Disaster Relief Supply, the disaster relief and recovery store, is packing away its warm weather products, and featuring snowstorm and blizzard relief and recovery products like generators, heaters, and ice melt.
Disaster Relief Supply carries multiple heaters that run off different fuel sources. Propane heaters have become the most popular given their portability, power, and safe use both inside and outside (for most models). Propane heaters also range in price from inexpensive ($30-$40), to expensive ($250-$300) depending on size and power. Electric heaters are also available at Disaster Relief Supply, giving off heat comparable to the propane heaters. Also, find Kerosene heaters from Dura Heat manufactured for heavy airflow for both drying and heating.
Ice melt is also an important item to carry during the winter time across the United States. Temperatures as far South as North Florida reach freezing and may require an ice melt solution to prevent damage to property and/or injury. Disaster Relief Supply offers a variety of ice melters from "Safe Step". A popular ice and snow melt is the "Pet Safe" model that is salt-free, non-toxic, and safe for paws and skin.
Disaster Relief Supply hopes to provide winter supplies to customers across the country. Online shoppers can find Disaster Relief Supply winter preparedness products at disasterreliefsupply.com. The "blizzard" section of the site focuses mainly on products viable in winter disaster preparedness and recovery.