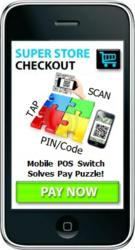 This may be the blueprint for all future mobile and digital wallets. The new Square Wallet app at Starbucks may have already shown us the way!
Aliso Viejo, CA (PRWEB) November 14, 2012
Today Mobile Wallet Media and it's founder and chief editor, Randy Smith, introduce an invention that may very well solve the problem of standardization in mobile payments. Retailers in America have been hesitant to adopt mobile payment technologies that may not be around in 2-5 years. Investing thousands of dollars per store to upgrade payment terminals is not something retailers want to readily engage until they know that mobile payments are going to take off, and fly, through the technology they have invested in.
NFC or Near Field Communications technology, already commonly used and adopted in Japan to enable mobile payments, has still yet to be adopted by more than 90% of retailers here in the USA. NFC works to replace the magnetic-stripe to transmit at short range the card credentials to terminals equipped with NFC. Google Wallet, ISIS, MasterCard, Visa, Microsoft, major banks, mobile carriers and several mobile wallet platform companies have adopted NFC as the technology of choice to complete the bridge between the mobile phone and the physical world Point of Sale (POS) terminal to enable mobile payments.
The delay of adoption by retailers of NFC and carriers alike has lead to an open window for several alternative methods to surface. Companies such as PayPal, LevelUp, Square, Tabbedout, Dwolla, Mocapay, Paydiant, Corfire, mFoundry and many more have moved in to fill the lack of NFC adoption with unique solutions using QR codes, alpha and numeric codes and a mobile phone's optical scanner to enable mobile payments. This has effectively worked to fracture the market, thus preventing an industry standard similar to what we have with a magnetic-striped credit card.
And recently, Merchant Customer Exchange (MCX) announced the formation of a retailer network to solve the problem of a lack of standardization and other problems. Among the founding retail partners are Wal-Mart, Target, Lowe's, Best Buy, Gap Inc., CVS, Shell, 7-11 and several more.
So what's this patent-pending solution? Rather than try to solve the problem of facilitating the connection between the mobile phone and the physical world POS, the solution works by utilizing any mobile payment technology through a single mobile app or web site wallet software platform.
How is this accomplished? It is through the enablement of a mobile or digital wallet to utilize the payment technology of choice as adopted by any retailer. The retailer must be registered for a mobile wallet using the invention's technology and list the mobile payment technology they have adopted. The mobile payment service provider must be integrated to the invention via API or have licensed their technology to be replicated by the invention's mobile payment switch software.
How it Works
1) Login into mobile app or web site, 2) Verify store location through the mobile app or web site via geo-location, WIFI (geo-fencing), search, entry of a store/register code, tapping an NFC-equipped phone to a NFC sticker, scan of a QR code using a mobile phone's optical camera or any other method and 3) After proper verification of the location and/or identity of the store or register, the consumer may pay using the technology adopted by the retailer. Within the mobile app or web site on the mobile phone screen will appear the mobile screens necessary to initiate and complete a mobile payment using the retailer's mobile payment technology of choice. So, no matter if the retailer has adopted NFC, QR codes or any other method of enabling mobile payments, a single mobile app or web site may be used to seamlessly complete the transaction.
For more details visit MobileWalletMedia.com