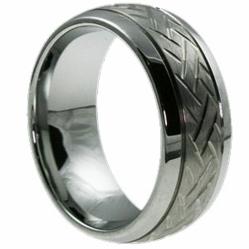 Going into a marriage without the stress of spending money on expensive rings is more important to our customers than wearing jewelry they cannot afford.
(PRWEB) November 21, 2012
http://www.forevermetals.com, a leading Tungsten ring manufacturer and retailer is participating in the Black Friday festivities on November 23th, 2012. For one day only a discount code for 30% off can be added to the shopping cart for a great savings. The coupon code bf30 will begin at 12:01am and run until 11:59pm on the day after Thanksgiving. This is the highest discount the company has released to the public, generally only giving out 10% codes during special sales. The discount can be used to purchase any in stock tungsten carbide rings, Ceramic rings, watches and pendants. The discount cannot be applied to custom orders or special engravings.
Forever Metals, also known as Forever Tungsten Ring, is one of the largest retailers of tungsten rings and wedding bands on the internet. Their styles include classic bands to more unique bands such as wood inlays and the symbolic Celtic ring. The benefits of choosing tungsten rings over more traditional metals definitely outweigh any negatives. The vibrant metal is extremely durable and virtually scratch resistant in the standard tungsten color. The rings have proven to be gaining popularity in a dwindling economy with consumers making more economically friendly choices rather than breaking a budget. Many customers have commented to the sales department that going into a marriage without the stress of spending money on expensive rings is more important to them then wearing jewelry they cannot afford. Gary Camphausen, owner of Forever Metals, LLC hopes that many couples will be able to benefit from the Black Friday Sale.
There are many benefits to choosing a tungsten carbide ring for both men and women. Tungsten reaches close to a 9.0 on the Moh's hardness scale. This places the metal hardness right below a diamond. Tungsten is a virtually scratch resistant metal that with increased popularity came a large variety of style options. Tungsten carbide is the one metal that will live up the company name as a "forever" metal. The staff at Forever Metals believes that the combination of a unique, high quality ring and excellent customer service will create a positive shopping experience for all.
Forever Metals encourages shoppers to buy with confidence when choosing tungsten carbide. The metal is long lasting and comes in many different price points to accommodate almost every shopper. The large, ever growing collection of rings, will also grab virtually everyone's attention.
For more information and to view the large collection of Tungsten Rings please visit http://www.forevermetals.com.
About Forever Metals:
Forever Metals™ has been a leader in Tungsten Jewelry since 2005. Forever Metals is a member of the Better Business Bureau (BBB) and offers a secure shopping environment for their buyers. Forever Metals offers a Limited Lifetime Warranty with all purchases. Shop with Confidence.
Contact:
Customer Service
Forever Metals
1.800.730.8317
630.938.4703