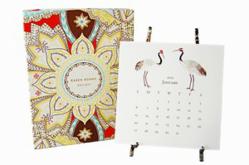 Monthly cards so beautiful you'll want to frame them...
Metairie, LA (PRWEB) November 16, 2012
In their Winter edition, New Orleans Homes & Lifestyles Magazine mentioned a unique calendar as one of the best for a desk. The Karen Adams 2012 Desk Calendar is unlike any you've seen. With monthly cards so beautiful you'll want to frame them, each month is decorated beautifully and delicately. Karen Adams has a light hand, but she is not light on creativity and whimsical design.
Each month is specially decorated for the holiday or theme that month, and each design is not too busy nor too plain. Every month is printed on thick card stock and adorned with a playful drawing, and the whole group of months rests on an easel to place on a desk, bookshelf or somewhere else in view. The whole set comes packaged in a beautiful box complete with a ribbon, and it needs nothing more than a card to indicate the lucky recipient.
Please call for ordering or details, 1-877-780-6699 or visit http://www.thegardengates.com.
About The Garden Gates:
The Garden Gates was founded by Jacqueline Elizabeth Kendall-Harris and Chad Harris in 1999. Jacqueline plays an instrumental role in product development, interior design and in developing core principles of The Garden Gates lifestyle. Chad plays an instrumental role in the creativity of the brand, marketing and technology of the business.
Source: http://www.myneworleans.com/New-Orleans-Homes-Lifestyles/Winter-2012/Style/
Photo Source: Karen Adams Designs