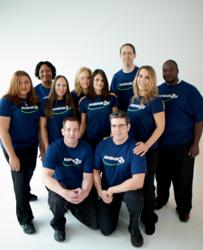 This was my first professional massage and it was great! The therapist made me feel comfortable and not awkward at all. Still feel relaxed and loose several days later! I want these for all my birthday presents!
Houston, TX (PRWEB) November 15, 2012
With a lagging economic recovery looking probable. Local businesses are approaching the warming job market with caution. Recruiting and training new employees can be costly. Coupled with a high turnover rate, it can wipeout revenue and halt growth. This has caused companies to look for creative ways to retain employees and entice competitive talent. Fortune 500 companies such as Boeing and Exxon Mobile have taken the lead on a popular new trend of massage in the workplace. Corporate massage has been clinically proven to have immediate effects on anxiety, musculoskeletal pain, headaches and alertness. Local massage providers like Massage2U are preparing to fill the growing demand.
NOISH, the National Institute for Occupational Safety and Health, reports that work related stress accounts for 40% of job turnover. Replacing that employee can cost up to 200% of their annual salary. Additionally, employees suffering from stress are absent more frequently and are less productive. Work related stress alone is estimated to cost American companies more than $300 billion a year. One case study at University of Miami School of Medicine has shown that chair massage is not only a potent treatment for anxiety; it also enhances alertness and math computations.
Other benefits of corporate massage are relief from back pain, headaches, and repetitive strain injuries (RSI.) OSHA reports that RSI is the leading cause of workers compensation and disability claims. Additionally, Cedars-Sinai has shown that massage cause significant increases in the number and percentage of lymphocytes. These white blood cells are the natural defenders in the immune system that fight off pathogens like Flu and the common cold.
###
Massage2U, a Houston mobile massage start up, was found in 2009 by Thomas Zeppelin and Jonathan Poucher (Co-Founders) Our A+ rating from the Better Business Bureau and raving customer reviews are a testament to our reliability, and consistent quality. For more information about the subject of this news release please contact Jonathan Poucher at 281.755.5253