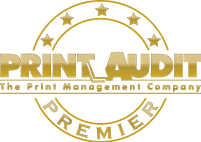 "At the end of the day, companies need to take notice of this little Canadian software company for doing something noticeable – getting in line with its channel partners by making things simpler and more profitable."
(PRWEB) November 13, 2012
Print Audit Premier continues to garner industry attention; this time being featured in a blog written by Ken Stewart at Photizo Group. Premier is a new subscription service that offers access to all of Print Audit's print management products for one low monthly price.
In the article, entitled Print Audit Premier Program Signals Shift in Business-Models, Ken Stewart, Director, MPS Advisory Service for Photizo Group, provides his own views on the Premier program. "My take is that this is the new billing model that most customers would prefer. It simplifies the number of product SKUs I have to deal with and aligns me with my software provider to a single go-to-market strategy."
Stewart adds that Premier "removes roadblocks to my sales efforts because I can now package this into every deal at a price point and profit margin I can live with – not some arbitrary markup that can sink a competitive deal."
Stewart concludes that Premier is an innovative business model that office equipment dealers and MPS providers will have to pay attention to. "At the end of the day, companies need to take notice of this little Canadian software company for doing something noticeable – getting in line with its channel partners by making things simpler and more profitable."
Please visit the following link to view the article in its entirety:
http://photizogroup.com/2012/11/print-audit-premier-program-signals-shift-in-business-models-2/
For more information about Premier, please visit http://www.printaudit.com/premier
About Photizo Group:
A leading transformation firm, Photizo Group assists clients in transforming their businesses from product-centric to services-centric companies. Photizo Group provide's clients with innovative and practical market intelligence, consulting, and education services based upon our deep industry insight and objective analysis. Photizo is a trusted advisor and provides clients, as well as the entire imaging market, with visionary guidance to help make successful business decisions. http://www.photizogroup.com
About Print Audit:
Established in 1999 and headquartered in Calgary, Alberta, Print Audit is the fastest growing print management company in the world. By providing businesses with innovative and practical print tracking solutions, the company has helped customers recapture over $200 million in printing and photocopying expenses while saving an estimated 190,000 trees a year.
Print Audit is the most comprehensive provider of managed print services (MPS) and print management solutions. The company enables organizations to monitor and control their printing costs via a broad range of capabilities that include secure print release, follow-me printing, rules-based printing, cost recovery, in-depth print assessment and remote meter reading.
Print Audit has offices located in the United Kingdom, France, Germany, South Africa, Australia, Brazil, Canada and the United States. Visit http://www.printaudit.com to learn more and find the location nearest you.