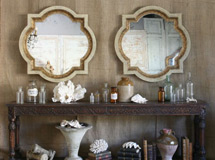 Pasadena, CA (PRWEB) November 14, 2012
http://www.laylagrayce.com Layla Grayce, the inspiring shopper's delight known for having one of the internet's most exclusive offerings of fabulously style-savvy home décor items, gifts, baby accessories, apparel and jewelry, has undergone a major transformation. In November, Layla Grayce launched with a new look, new functionality and amazingly advanced capabilities.
With one of the most expansive online assortments of the hottest home goods and gift items, Layla Grayce is your go-to web site when seeking that perfect present, nesting for baby or redecorating your home. The brainchild of Wendy Rossiter Estes and Tiffany Grayce Harris, Layla Grayce launched in 2004 as a startup and has grown into a multi-million dollar e-commerce powerhouse with headquarters in Pasadena, a devoted team of employees, celebrity clientele and an international customer-base.
The new Layla Grayce site boasts upgrades on every level, including a complete overhaul of its appearance and a brand new logo. The redesign takes its visual cues from trends in graphic and interior design as well as new media. A veritable bonanza of amazingly fun features have been developed and employed to assist customers, including:
-Customer product reviews allowing you to read firsthand information on consumer experiences and weigh in on your favorite purchases.
-A drag-and-drop design board allowing you to test drive a room redesign, mix and match different products and perfect your look before you purchase.
-A Beloved Items page allowing you to keep your cherished finds in one spot with the click of a heart.
-Larger, more detailed product images that make your shopping experience even easier.
-An updated, easy-to-use navigation bar on the homepage.
-The redesigned and revamped Backroom Blog, which will keep you inspired, informed and visually delighted with daily posts, contests, guest blogger series, trend boards and gift guides.
ABOUT LAYLA GRAYCE
Layla Grayce is an inspiring shopper's delight conceived by Wendy Rossiter Estes and Tiffany Grayce Harris. Together they have selected a remarkable collection of items for home, women and children, carefully choosing every product, artisan and manufacturer to ensure their business philosophies and craftsmanship are worthy of your home and lifestyle. Never mainstream but always functional, Layla Grayce products are designed for longevity – everyday heirlooms that can be passed on to future generations.