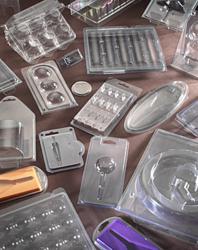 Holyoke, MA (PRWEB) November 15, 2012
Walter Drake Inc. has recently completed an air conditioning system upgrade to their Certified Clean Room. The thermoforming manufacturer has developed a Certified Clean Room facility to handle all contamination sensitive production requirements for thermoformed plastic clamshells, tray and blister packaging. While surface contamination is not practical to measure in a cost effective manner, Walter Drake does manufacture ultra-clean thermoformed plastic packaging in a Class 1000 (ISO Class 6) clean room.
"The air conditioning upgrade is part of our continuing commitment to improvement," said Walter Drake. "We continue to invest in our plant to provide the highest quality products possible and continue our growth".
Walter Drake provides custom package design, close tolerance, high-speed production equipment, ISO 9001-2000 compliant quality assurance protocols and, of course, a Class 1000 (ISO Class 6) clean room facility to deliver your custom thermoformed clean room packaging on time, within spec and at the lowest possible prices.
Walter Drake designs and manufactures custom thermoformed plastic packaging in the form of plastic clamshells, thermoformed trays and blisters for the medical, pharmaceutical, electronic (ESD, static dissipative), consumer and industrial packaging applications. Our custom thermoformed packaging is available in a variety of virgin, laminated and recycled raw materials that include PVC, vinyl, PET, PETG, HIPS, styrene, flocked styrene, OPS, medical grade laminates and conductive and static dissipative (ESD) materials in gauges from .0075" to .070."
__title__ Clean Room Packaging]