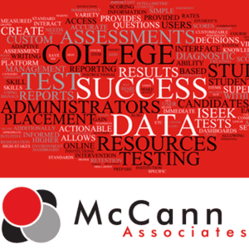 "We're pleased that our exam is living up to our expectations, but we're not done working to make sure it is the best that it can be."- Keith Webster, President of McCann Associates
YARDLEY, Pa. (PRWEB) November 14, 2012
In 2010, Florida, in partnership with assessment leader McCann Associates, underwent an education transformation with a statewide movement toward a common definition of college and career readiness. Florida's old system of college placement was thrown away and replaced by a new structure specifically based on the competencies that Florida's educators identified as necessary for success in entry-level college coursework. The new structure is the Postsecondary Education Readiness Test, or P.E.R.T., and data from the first full year of its implementation shows that it is meeting the expectations of the state faculty who worked to structure the exam.
"We can show that the P.E.R.T. is absolutely indicative of student knowledge," said Keith Webster, President of McCann Associates. "Our data shows that students who received higher scores on the assessment went on to receive higher grades in the courses they were placed into, showing that P.E.R.T. is well-aligned with prescribed outcomes."
Developed by McCann Associates and the Florida Department of Education's Division of Florida Colleges and Florida College System faculty, P.E.R.T. was tailored to faculty specifications for use by all 28 Florida colleges to determine whether or not a student is ready for college credit courses in math and English. Data from the exam shows that there is a direct correlation between scores on the P.E.R.T. and subsequent course grades.
"In other words," Webster continued, "the better a student did on the P.E.R.T., the better they performed in class. For instance, if a student received a score of 128 on the math portion of the test, she typically went on to get an A in her mathematics course, while a student who received a 120 on the same portion of the same test typically received a lower grade in that course, such as a C."
P.E.R.T. is comprised of three 30-item, computer adaptive subtests in reading, writing and mathematics. Florida College System institutions began administering the P.E.R.T. in October 2010, and by the spring of 2013, every high school junior in Florida will take the assessment.
"We're pleased that our exam is living up to our expectations, but we're not done working to make sure it is the best that it can be," said Webster. "Next spring, we will work with the FLDOE to review cut scores, ensuring the continued precision placement of students in appropriate courses. We want to make sure every student is placed where they need to be in order to succeed."
With the rollout of the P.E.R.T. to high schools, FLDOE and McCann have collaborated to create P.E.R.T. practice tests to help students adequately prepare for the test and identify learning needs. As championed by the success of P.E.R.T. in placing college students, these practice exams will help secondary students see where they are weak and give them the opportunity to self-remediate before taking the P.E.R.T. in school.
About McCann Associates
Since 1959, McCann Associates has been an innovative leader in the development and distribution of assessment, certification, business intelligence and personal development solutions. Leveraging advanced technology, McCann provides cost-effective tools via Software as a Service for Higher Education, Government and Public Sectors, Public Safety, Corporate HR and Employee Learning.
Through its deployment of high-stakes, formative and diagnostic assessments, McCann Associates creates, delivers, scores and reports on hundreds of thousands of assessments each year. McCann is the trusted name in implementing placement exams for the state of Florida, via the Postsecondary Education Readiness Test or P.E.R.T., and the Virginia Community College System, via the Virginia Placement Tests or VPT.
###