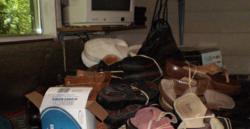 Hot Springs, Ark. (PRWEB) November 14, 2012
Communities across America will be hosting individual recycling events this week as part of America Recycles Day, a nationally recognized and community-driven awareness event held every year, dedicated to promoting and celebrating recycling in the U.S.
Alliance Rubber Company is pleased to support these recycling efforts by partnering with volunteers at the Rome Floyd County Recycling Center in Georgia to help educate, promote environmental citizenship, and encourage action as citizens work to recycle shoes on November 17 for Soles4Souls, an organization that provides shoes for those in need, free of charge.
"Keeping shoes out of the landfill is important environmentally, but probably more important socially. By donating used shoes to this collection program, you are taking something you do not need anymore and getting it into a re-use stream so that someone else who needs them, will have them," Marta Turner, Organizer for the Soles4Souls Recycling Event in Rome, Georgia, said. "It's a form of recycling and reusing that anyone can do. There are no special skills or money required. Just your old shoes, that's all we need."
Turner, who has been working with this program for three years, states, "It is a lot of work, but rewarding. I went to a Georgia Recycling Coalition Annual Conference and the founder of Soles4Souls came to speak to us about doing a special collection in the state of Georgia. I had just retired from being the manager of the local recycling center and knew that I could get our community to participate in this three month event."
America Recycles Day is a national program sponsored by Keep America Beautiful, and is the only nationally recognized day and community-driven awareness event dedicated to promoting and celebrating recycling in the U.S. To learn more, visit http://www.americarecyclesday.org or http://www.soles4souls.org .
"Alliance Rubber Company is pleased to help sponsor this particular recycling day event and would like to encourage manufacturers across the country to help support similar recycling initiatives," Alliance Rubber Company President Bonnie Swayze, said.
About Alliance Rubber Company
Alliance Rubber Company is dedicated to "Holding Your World Together." Since it opened in 1923, the company has grown into a global leader with over 2,100 skus of mailing, shipping, office, and packaging products sold through dealers in 28 countries. Alliance Rubber Company is a proud supporter of the "Made in the USA" initiative. Take our "We Can Make It In America" pledge at http://www.rubberband.com/new-a-events/american-pledge.html and help create a million new American jobs by pledging to spend just a $1 a day on American made items.
Alliance Rubber Company is also sponsoring a $500 rubber band contest at: http://www.rubberband.com/new-a-events/our-blog-bandology.html. Learn more by using your smart phone to scan the Quick Response Code on specially marked packages of Alliance products. Winners of the 2012 NIST Innovation Award, contact us online at http://www.rubberband.com or via telephone 800-626-5940 . Visit us on Facebook at: http://www.facebook.com/alliancerubbercompany?ref=mf