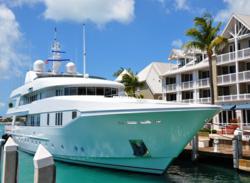 I might even have to kick up that goal, if my guys hit it too soon.
Ft. Lauderdale, Florida (PRWEB) November 15, 2012
Each year, Joshua Kerrigan brings his team to the Ft. Lauderdale Boat Show and asks them to meet and greet potential clients and tell them about what Yacht Management can do in order to keep their watercraft in pristine condition. This year, Joshua Kerrigan provided his clients with an aggressive plan for the boat show. With this plan in place, he hopes to help his growing company get even bigger in the year to come.
"The Ft. Lauderdale Boat Show provides us with the opportunity to talk to potential clients we might not meet in any other way," says Joshua Kerrigan. "Each day, we're on the marina, helping our clients maintain and pilot their vessels, but people might not know who were are and they might not feel comfortable with interrupting our work in order to ask questions. At a boat show, we're just waiting for people to talk to, so people might feel more comfortable with the idea of stopping us and asking us questions. It's a great time to do some business."
Setting goals for the boat show isn't new to Joshua Kerrigan, but this year, he wanted to challenge his employees by setting the goal high.
"I know the economy continues to stagnate and competition for business is still quite tough, but my employees seem to thrive on challenges, so I wanted to do my part in order to help them to stay motivated," Joshua Kerrigan says. "For that reason, I asked them to obtain seven new yacht management contracts at this year's show. It's a high number, but I think they can do it."
So far, Joshua Kerrigan's predictions seem to be right on target. The show hasn't yet started and already the company has picked up two new contracts, Joshua Kerrigan says.
"With this early lead, I think it's clear that we're going to have a banner year at the boat show," Joshua Kerrigan says. "I might even have to kick up that goal, if my guys hit it too soon."
The boat show runs from October 25 to October 29, and Yacht Management employees will be available from 10am to 7pm, each and every day. Potential clients are encouraged to visit, and perhaps help these employees to reach the sales goals set by their boss.