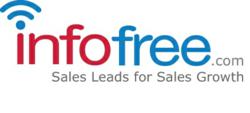 San Mateo, CA (PRWEB) November 14, 2012
infofree.com, the leading provider of unlimited sales leads and mailing lists for the low, flat price of only $49.95 per month, announced today that its customers are raving about its millions of insurance sales leads.
In nearly 18 months, infofree.com has made its mark on the database marketing industry by providing the first unlimited access to nearly 300 million sales leads and mailing lists for one low price. Thousands of small business owners and salespeople have already discovered this revolutionary service, and a majority of them work in the insurance industry.
infofree.com offers a wide variety of quality insurance sales leads, including homeowners and new homeowners, who are in the marketing for multiple types of insurance policies. Subscribers also utilize the Motorcycle Owners, Boat Owners, and RV Enthusiasts databases for insurance leads, but the most popular list among insurance agents is the Consumers Turning 65 database. These seniors can be targeted for a plethora of insurance needs.
"Sales leads are the life blood of any insurance agent's business. There is no need to pay up to 50¢ per lead when you can get them unlimited for only $49.95!" says Vin Gupta, Founder of infofree.com.
To try infofree, visit http://www.infofree.com or call 877-448-0101 for more information.
About Us: infofree.com™ is revolutionizing the sales lead and mailing list industry by providing unlimited search, view, and download of over 12 million business records, 200 million consumers, and hundreds of other specialty databases for the low, flat price of only $49.95 per month. Reach new homeowners, new movers, newlyweds, new businesses, and more!
The infofree.com content is compatible with the following platforms: Oracle CRM, Salesforce CRM, Microsoft CRM, Nutshell CRM, Goldmine CRM, Sage ACT! CRM, Highrise CRM, Zoho CRM, NetSuite CRM, SAP CRM, Constant Contact, RightNow Technologies, Responsys, Vertical Response, and Dun & Bradstreet.