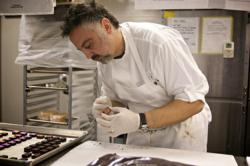 Chef Tariq's vision and expertise are the foundation of everything we create at Sucré
New Orleans, LA (PRWEB) November 15, 2012
Sucré Sweet Boutique and Confection Studio in New Orleans is pleased to announce its executive chef, Tariq Hanna, has been named one of the top 10 chocolatiers in North America by Dessert Professional Magazine.
This prestigious distinction is awarded to accomplished chocolatiers across North America who exhibit superior craft, creativity and skill with the use of chocolate. Hundreds of chocolatiers from the United States, Mexico and Canada are evaluated for the competition each year. Only ten are named the best for their ability to not only show exceptional culinary talent, but also demonstrate unique efforts that help elevate the chocolate industry as a whole.
This recognition was bestowed by Dessert Professional Magazine, which is widely recognized as one of the nation's foremost authorities on the confectionery and culinary industries.
"I am truly honored to receive this distinction," said Chef Tariq, who has been the mastermind behind all Sucré artisan chocolates and confections since its founding in 2007. "I want to thank Dessert Professional Magazine, as well as our many fans and our talented staff who help make Sucré the definitive dessert and confection experience in New Orleans."
This is one of the latest of many accolades in Tariq Hanna's illustrious career. Chef Tariq was recently invited to serve as a U.S. Culinary Ambassador through the U.S. Department of State's Diplomatic Culinary Partnership. As a culinary ambassador, Chef Tariq will be called on to create state dinners for foreign dignitaries, as well as visit other nations as an ambassador for American cuisine. He will also participate in educating youth on the growing movement toward healthier eating in the American landscape.
In 2011, Chef Tariq was named one of the top 10 pastry chefs in the United States by Dessert Professional Magazine. He was also a finalist for Chef Magazine's Chef of the Year award in 2008. Born in Nigeria, Chef Tariq moved to the United States in 1986 at the age of 18 and began his culinary education at Oakland Community College in Michigan.
"Chef Tariq's vision and expertise are the foundation of everything we create at Sucré," said Joel Dondis, founder. "From our gourmet truffles to our signature French macarons, our unique offerings are truly extraordinary because of his talent and hard work."
For more information on Sucré, Chef Tariq Hanna or our award-winning confections, please visit http://www.shopsucre.com or email info(at)shopsucre(dot)com.
---
About Sucré
Sucré is an artisan confection studio and Sweet Boutique located in New Orleans, Louisiana, offering the definitive dessert and confection experience. Founded by Chef / Restaurateur / Entrepreneur Joel Dondis and pastry Chef Tariq Hanna in 2007, Sucré has quickly become a cherished local landmark in a city with a rich culinary history. Sucré offers guests a variety of confectionery delights, all made in our New Orleans based confection studio. From French macaroons and artisan chocolates, to salted caramel cupcakes and petit red velvet cakes – each offering is confectionary perfection. Outstanding quality, exceptional ingredients and exquisite packaging are what make Sucré desserts and confections so extraordinary.