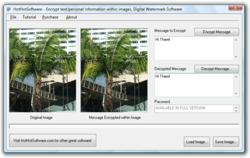 Cool! This really works!
Los Angeles, CA (PRWEB) November 18, 2012
One concern most individuals face on a regular basis is how to prevent identity theft. Hackers and crackers regular install trojan files and keyloggers to capture personal information through various means. Unsuspecting users can even inadvertently install spyware on their systems, which can then send personal information back to a hacker or cracker. This type of software generally scans computers for certain patterns, such as saved password lists, credit card information, passport information, and so forth. Utilizing HotHotsoftware's "Encrypt information within images" software, users can now hide personal information in plain site. Even if an identity thief obtained personal information, he would find it very difficult, if not impossible, to extract the personal information, thus preventing identity theft.
The facts about identity theft are that identity thieves are generally very organized, and use advanced scripting software to locate security holes. They then steal personal information. Even if a user password protects personal information in document files, pdf files and so forth, that information can easily be extracted using 3rd party tools, simply because they follow a very similar encryption pattern.
HotHotSoftwares "Encrypt Text within Images" software allows users to protect their information with a unique pattern and signature, that makes cracking it exceptionally difficult. A user simply enters the information they wish to protect within the software, adds a password (optional), and encrypts the information. The data is then merged with the image. Regular users looking at an image cannot tell the difference between an image with hidden data, and a regular image. Pictures can also be stored in plain sight, such as on a 3rd party website such as facebook. So even if the original data was stolen, a user could still obtain their confidential information from a public source.
A more industrial strength version of the software exists for corporations needing to protect sensitive documents. This version features support for lossy image formats, advanced reconfiguration encryption technology, data redundancy, and security. For details on how to protect data, please visit http://www.hothotsoftware.com/encrypttextanddatawithinanimage_software/.