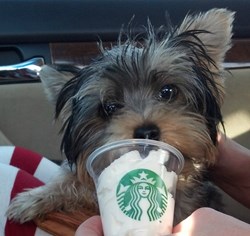 Please, I am asking anyone who can help to simply like and share Stewarts Facebook page so there is a chance we can find him
Las Vegas, NV (PRWEB) November 14, 2012
"Stewart", a 6 month old bubbly and adorable silver and brown haired Yorkie who loved to play with cats (see adorable video), chase butterflies and snuggle like a teddy bear was taken from a couple during a work convention off the Las Vegas Strip last Thursday, November 8th, 2012.
Stewart was a gift for Tess Alexandra after her previous Yorkie of 10 years died tragically. Stewart quickly won her heart after just a few days. Becoming her shadow he slept in her lap at movie theaters, joined her on long car trips for work, cuddled and slept on her head in scary hotels, alerted her to strangers and occasionally treated himself to a Starbucks whip cream.
"I am just so heartbroken, since I work from home and am sometimes in between places he literally went with me everywhere. He would keep me safe in hotels, cuddle with me at night and every morning I would wake up and feel him stretching next to me. My heart feels like there is this throbbing pain in it all day, I am so sad. Please, I am asking anyone who can help to simply like and share Stewarts Facebook page so there is a chance we can find him"
Stewart is only about four or four and half pounds with almost full greyish silver with brown near the tips of his hair. If he was recently groomed he might have less brown. He does know his name is Stewart and is a great listener and loves to give kisses.
Stewart could still be in Vegas sold to a local resident or pet shop where he might be brought into a vet or grooming place. If he is sold to a local tourist their only hope is that person sees Stewarts videos and recognizes they bought him. The couple asks anyone reading that they like the facebook page and share it on their wall.
The couple is offering a reward of $2,000 to any person who returns Stewart or leads to him being found safely. They will also donate an additional $500 to a local shelter. They have setup a facebook page http://www.facebook.com/returnstewart where readers are urged to like and share their page with their friends.
Anyone with information can contact Tess directly at 714-348-1577 or contact your local Animal Shelter with details.