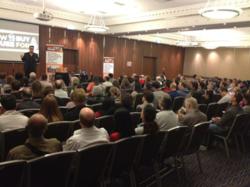 I've developed these strategies when I started in property investing. And they are what I used to build a portfolio of more than 76 properties in 12 months.
(PRWEB) November 14, 2012
A RateCity report reveals that homeowners have been charged an additional $11,687 over five years since major Aussie banks still refuse to pass on full rate cuts. The gap between RBA's official cash rate and the standard variable rate charged by banks has increased from 1.82 percent in 2007 to 3.37 percent in 2012.
Property innovator, Rick Otton, says homeowners don't have to suffer in increased mortgage fees each year. "Just imagine if you could buy any house, as many as you want, without seeking bank financing or creating additional loans. You'll be able to pay for your dream house without worrying about increasing interest rates. Now, that's possible through creative real estate strategies," Otton said.
Creative real estate strategies by Otton are innovative and alternative ways that allow anyone – including first homebuyers and people with limited experience in real estate – to buy houses without money and banks.
"I've developed these strategies when I started in property investing. And they are what I used to build a portfolio of more than 76 properties in 12 months. These creative property investment strategies have helped me achieve real estate success. Because of this and the number of people wanting to know how I did it, I decided to share these strategies through seminars and my newly published book."
The "How To Buy A House For A Dollar" Book
Otton's book, "How To Buy A House For A Dollar", has been recently released in local bookstores. It provides an in-depth discussion of Otton's creative strategies to buy and sell houses without banks and additional loans.
"Since I started using these creative strategies, I never spent time thinking about the current economic status or the state the housing market is in. Why? Because these strategies are designed to work regardless of the state of the country's economy is in. This is why anyone who uses these strategies are not affected whether or not banks pass on full rate cuts," Otton explained.
Other Ways of Teaching Creative Investment Strategies
Aside from the book, Rick Otton also teaches his creative strategies through boot caps and seminars. This year, Otton has been touring the country for a series of one-day training events where he discusses the strategies and shows people how to use the strategies in solving their real estate problems.
Jovan and Sally Sarai are among the many people who went to Otton's events to learn about these innovative and creative strategies. "We bought a $1.3 million house for ourselves to live without banks through lease options. It cost us $15,000 upfront for deposit and a weekly payment of $1,125. We are extremely grateful because this would not be possible without Rick," Jovan and Sally said.
To find more details of Otton's training seminars, go to http://www.howtobuyahouseforadollar.com/register. Make sure you've registered and reserved for a free seat to ensure your place in the event.
About Rick Otton
Rick Otton has spent decades making money by snapping up inexpensive real estate and putting it to work building wealth. Now, he's teaching other Aussies how to do the same.
Otton is the founder and CEO of We Buy Houses, which operates in the U.S., U.K., Australia and New Zealand putting his strategies to work every day.
Otton got his start in alternative real estate investment in 1991 and within a year acquired 76 properties. In years after, Otton made a fortune using his low-risk, high-reward strategies to inexpensively acquire real estate.
Now, Otton wants to share the wealth by sharing the wisdom, teaching Aussies how to buy and sell real estate without cutting banks and other middlemen in on the deal.
Otton has been featured in a variety of television programs and magazines, including Today Tonight, A Current Affair, Australian Property Investor and more.
You can learn more about Otton and how to invest in residential real estate without using banks at http://www.rickotton.com.