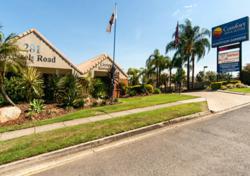 With the quiet ongoing success of Comfort Inn & Suites Robertson Gardens, which started as a small family business in 1988 by Mr. Ken Duncombe, we are proud to announce the continued reinvestment and expansion of the property
Brisbane, Queensland (PRWEB) November 16, 2012
Choice Hotels Australasia is pleased to announce that Brisbane's Lord Mayor, Graham Quirk, will officiate the opening of the Duncombe Family Administration Building at Comfort Inn & Suites Robertson Gardens on Wednesday 17 October, 2012.
From humble beginning 23 years ago, what was an empty plot of land in a non-existent suburb pegged for major growth has now become the award winning and tropical resort offering 4 star Brisbane accommodation.
The new purpose built administration building, constructed in honour of the late founder Mr. Ken Duncombe, will serve to house the management team and open up the hotel to additional room capacity and guest services.
Michelle Allsop, Director of Sales of the 133 room Brisbane hotel, says she is honoured that Brisbane's Lord Mayor, Graham Quirk, will be in attendance for the opening and commemorative high tea.
"With the quiet ongoing success of Comfort Inn & Suites Robertson Gardens, which started as a small family business in 1988 by Mr. Ken Duncombe, we are proud to announce the continued reinvestment and expansion of the property," said Allsop.
The property, which was recently bestowed Franchisee of the Year at Choice Hotel's Annual Gala Awards Dinner paying homage to outstanding property performance over the past 12 months, has recently returned to operating at full capacity after undergoing major refurbishments following a fire that last year caused significant damage to operations.
Mr . Ken Duncombe, the late founder of the Comfort Inn & Suites Robertson Gardens, first purchased the land that the property resides on in 1982 and built the Robertson Gardens Motel in 1988. Undergoing multiple refurbishments over the years and joining the Choice Hotels Australasia stable in 2000, the four star Brisbane hotel now has 133 rooms and employs over 60 staff.
Sitting amongst ten acres of landscaped gardens and complete with a pool and outdoor BBQ area, the property is a popular Brisbane wedding reception venue and also offers superior meeting and conference facilities for its guests.
ABOUT CHOICE HOTELS AUSTRALASIA
Econo Lodge, Comfort, Quality, Clarion, Clarion Collection, Choice Hotels Australasia, Choice Privileges and Choice Hotels are proprietary trademarks of Choice Hotels International, Inc. Choice Hotels Australasia is part of Choice Hotels International, which franchises more than 6,100 hotels worldwide including more than 280 in Australia, New Zealand and Singapore. For bookings and information contact 13 2400 in Australia or 0800 803 524 in New Zealand.© 2012 Choice Hotels Australasia. All rights reserved.