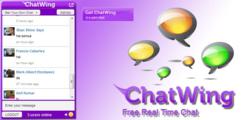 Chicago, IL (PRWEB) November 17, 2012
The Internet has not only been a rich source of valuable information but also a free platform for communicating globally. The Web also serves as a virtual community where anyone can expand network or promote a cause. The Web also offers numerous opportunities in terms of gaining profits in business, networking and marketing. New website owners can easily adjust to the competition by exploiting various strategies and tools to increase traffic rate. One proven strategy is embedding a free chat widget in one's site. Online communities owe their fast expansion to chat boxes where they can interact and maintain online relationships hassle-free.
There are a lot of available shoutboxes online but only few can really provide an efficient and reliable real-time communication experience. Chatwing, a leading creator of advanced chat box, has been in the industry for three years. Chatwing team has always been true to its promise of producing a free shoutbox that will help web owners improve their online performance. Recently, the team launches their newest chat widget that has a simple mechanism yet dynamic in many ways.
Over all, Chatwing free chat box offers ease of access and convenience to both web owners and chat participants. Installation requires a few seconds and customization can be done in various ways. Web admins can also upload images and MP3 links to provide online visitors with a unique interactive experience. To put a more personal touch in the communication process cute avatars and cool emoticons are readily available.
For a high rate of global connectivity, Chatwing has developed its free chatbox under a stable platform that can accommodate up to a thousand active users simultaneously. Chatwing team also incorporated a social media integration feature to make it accessible to Facebook and Twitter users. Reaching out to more web surfers online will greatly contribute to one's high rate of online visibility.
About Chatwing.com
Chatwing.com specializes in the new field of website chat. Over years, the Chatwing team has introduced live chat widget for hundreds and thousands of blogs. The Chatwing application bridges people from many parts of the world, creating global synergy through the Internet. The shout box can be installed in just seconds, and it can be used for varying purposes such as leisure and Internet marketing. It also allows a user to customize the size, color, and name of the widget. Chatwing is 100% free for everyone.