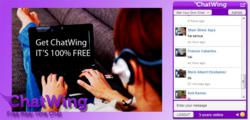 Los Angeles, CA (PRWEB) November 17, 2012
Movies are one of the unfaltering topics in the Internet today. This is based on the hundreds and thousands of websites that are created for the sake of movies, movie discussions, paraphernalia, and many more. The Chatwing Development Team has decided to explore the world of movies through the Pinterest community. After a careful observation, the company has introduced its latest chat widget to movie buffs and review makers in Pinterest. The latest Chatwing widget can help movie buffs find more friends and information.
Chatwing's developers have observed many website owners who have used the free chat widget. After about a week, the developers asked for feedbacks and comments. According to the website owners, their websites had a significant increase in online visibility. Movie buffs can use the Chatwing chatroom to explore different kinds of movies. Additionally, visitors can also share their ideas and suggestions about the best movies up to date. Review makers, on the other hand, can explore the different sides and opinions of their visitors.
If Pinterest is the navigator for the best movies, the Chatwing free chatbox serves as the imminent communication tool. The Chatwing chat app also has a spectrum of customization options to choose from—colors can be mixed and matched to find the right theme. Admin controls are also highly emphasized to grant a certain edge for Chatwing users. These features have benefited thousands of web users already.
Chatwing's advancement to the Pinterest community is one of the major strategic moves of the company. Many online sectors are now being considered in Chatwing's expansion plan. Before implementing more expansions, however, the Chatwing team is planning to put more developments to the free chat box. In this way, more users can enjoy exclusive online chat experience brought by the Chatwing shoutbox.
About Chatwing.com
Chatwing.com specializes in the new field of website chat. Over years, the Chatwing team has introduced live chat widget for hundreds and thousands of blogs. The Chatwing application bridges people from many parts of the world, creating global synergy through the Internet. The shout box can be installed in just seconds, and it can be used for varying purposes such as leisure and Internet marketing. It also allows a user to customize the size, color, and name of the widget. Chatwing is 100% free for everyone.