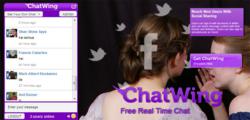 San Antonio, TX (PRWEB) November 18, 2012
Podcast site owners can now utilize the communication leverage offered by the Chatwing Development Team. The company has recently launched a chat widget loaded with wide range of customization options. Social media integration is also a major part of the widget albeit faster and more efficient. Chatwing's developers have also announced that the recent widget is designed to enhance the online presence of a website in just days.
Despite the arrival of various online trends, podcasting still remains as one of the strong niches of today. This simply means that music influences people in many possible ways. The Chatwing Development Team has recognized this important fact, which led the company to introduce a MP3 feature in its latest free chat box. The MP3 feature allows a Chatwing user to upload a single MP3 song link. This will make the Chatwing chatroom enticing for visitors.
Aside from the MP3 feature, the Chatwing chatbox allows users to upload background images. Any background image is possible, as long as it comes from a valid link. The Chatwing app also has a wide selection of background images to choose from. Users can now try different combinations, along with colors and sizes. Podcast site owners who have sentimental music can try "romantic" background images to stir up the mood of the visitors. Sentimental music also relaxes visitors, allowing them to confer with the website owners easily.
Chatwing's free chat widget an also contribute an online presence rate by up to 80%. This fact, however, depends on the website's content and the website owner's way of interaction with the visitors. Chatwing's elite developers are also having a strategic plan that will include new platform upgrades.
About Chatwing.com
Chatwing.com specializes in the new field of website chat. Over years, the Chatwing team has introduced live chat widget for hundreds and thousands of blogs. The Chatwing application bridges people from many parts of the world, creating global synergy through the Internet. The shout box can be installed in just seconds, and it can be used for varying purposes such as leisure and Internet marketing. It also allows a user to customize the size, color, and name of the widget. Chatwing is 100% free for everyone.