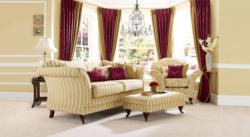 We listen to our customers and work hard to bring them the very latest in classic and contemporary fabric design.
(PRWEB UK) 14 November 2012
The new fabrics have been released following research into the performance of the company's current range, taking into account sales, customer feedback and forthcoming trends in the soft furnishing and interior design industries.
Responding to recent success from one of their most popular loose cover and reupholstery fabrics, Luxury Hopsack - a textured weave fabric - Plumbs' merchandise team have brought in an additional 23 colourways to cater for a wider variety of customers and their homes. The new spectrum of colour includes neutral shades such as Stone, Oatmeal and Sand, alongside bolder colours like Raspberry, Aquamarine and Sage. Since the introduction of the new colours, Luxury Hopsack has soared to the number 1 best seller spot for Plumbs' woven fabrics.
An additional 10 colourways have also been added to the popular Chelsea Velvet collection from well-known design house J Brown Fabrics. The new options include Taupe, French Navy and Olive. Meanwhile a further 19 colourways have been introduced to the Cardinal collection to cover the growing popularity of the Ross fabric.
As well as offering more variety to current favourites, Plumbs have also launched a range of brand new fabrics. Amongst them are co-ordinating fabrics like Mayfair Floral and Mayfair Stripe – 2 luxury heavy weight fabrics in complementary designs and colours – and Carrera with Carrera Mini – a classic damask paired with a co-ordinating crosshatch design in 2 neutral colour options.
Plumbs have also added to their extensive range of branded fabrics with new designs from Ross Fabrics and Crowson including Grosvenor, a traditional floral, and Faremont Diamond, a small motif design part of the company's luxury 'Bespoke Collection.'
Merchandise Manager and member of the Plumbs family Laura Calvert says, "We pride ourselves on delivering a varied range of fabrics that will appeal to many different tastes and needs. We listen to our customers and work hard to bring them the very latest in classic and contemporary fabric design. I am looking forward to receiving feedback from our network of national consultants to see how our customers are responding to our new additions in the home." She continues, "We are already seeing success with some of our popular fabrics like Luxury Hopsack which became our best-selling woven fabric last month following the introduction of the new colours. This is an encouraging start!"
Plumbs offer a free home consultation service whereby customers can browse the range of fabrics in their own home and receive expert advice from a local consultant. The visit is a no-obligation opportunity to find out more about loose covers and reupholstery, and see large fabric samples against existing furniture and décor. All Plumbs Consultants have now been supplied with the new fabrics to take to Home Visits.
About Plumbs:
Plumbs have around 150 Home Consultants who will visit homes free of charge. The Home Consultants can recommend an appropriate loose covers solution and advice on room colour co-ordination and any other home furnishings such as upholstery, loose covers for sofas, cushion covers and curtains.
Plumbs have over 600 different upholstery fabric designs and colours to choose from, and a range of materials to suit any piece of furniture.
For further information please contact: Hannah Jones on 01772 838 301 or email hjones(at)plumbs(dot)co(dot)uk